Jeep confirms Wrangler pickup, Hellcat-powered Grand Cherokee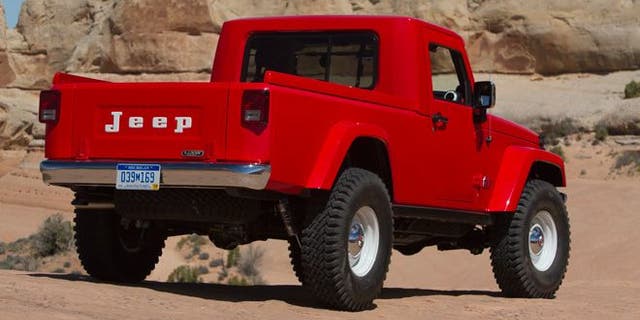 Jeep didn't unveil any new models at the 2016 Detroit Auto Show, but it still made some big news.
Executives from the company confirmed that both the long-anticipated Wrangler pickup and high performance Grand Cherokee SRT Hellcat are on the way.
Jeep CEO Mike Manley told The Detroit News that the pickup will be based on the next generation Wrangler, which is expected to debut next year. He didn't say if it would be one of the launch models, or follow the Wrangler SUV at a later date, but his boss, Fiat Chrysler CEO Sergio Marchionne, added that the pickup version would be built at Jeep's factory in Toledo, Ohio, alongside the rest of the Wranglers.
Manley has been talking about the possibility of bringing a pickup back to its lineup for several years. The last one was the Cherokee-based Comanche, which went out of production in 1992, although Jeep does offer a do-it-yourself conversion kit for the current Wrangler Unlimited that turns it into a 2-door pickup.
As for the Grand Cherokee, automotive journalist Brian Makse asked Manley if the 707 hp supercharged Hellcat V8 would fit in the SUV, to which he answered: "not only can I put a Hellcat motor in one of those for you, I'm going to bring that to market by the end of 2017."
Manley offered no additional details on the vehicle, but if the horsepower rating stays the same, it would be the most-powerful SUV in the world. That is if you don't count the all-electric Tesla Model X P90D, which is rated at 762 hp.
Despite the comments from Manley and Marchionne, however, Jeep has not yet made a formal announcement about either vehicle.
----------
Jeep pickup is a Brute