Italy's $1.4 Million Pagani Huayra Supercar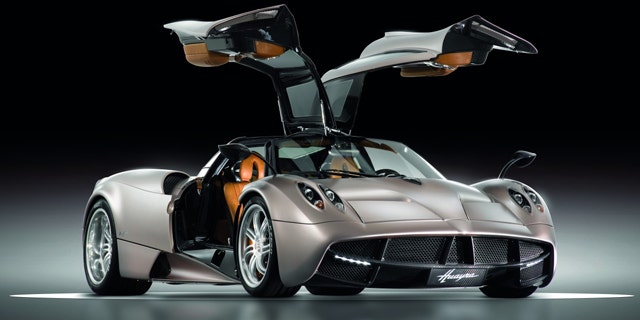 You'll have to ask your friend from Lake Titicaca how to pronounce it, but if a picture is truly worth a thousand words, images of the Huayra speak for themselves.
Named after an ancient Andean god of wind, the Italian supercar is the latest from one of the world's smallest and most bespoke automakers, Pagani. Never heard of it? That's because it doesn't sell cars in the United States, yet.
Unlike the company's current car, the Zonda, the Huayra has been engineered to meet U.S. safety and emissions standards, and should be available here, at least to a few extremely wealthy individuals.
The price tag for this gullwing, grouper-faced objet d'art is $1.4 million. For that you get what's described as a carbon-titanium monocoque chassis cradling a mid-mounted, 700 hp 6.0-liter twin-turbocharged V12 engine designed for Pagani by AMG, the performance arm of Mercedes-Benz.
With a seven-speed dual-clutch automatic transmission and a weight of under 3,000 pounds, the Huayra should deliver incredible acceleration. The company claims a top speed of over 230 mph. A moveable wing with four adjustable flaps allows the car to transform its aerodynamics to suit the prevailing winds being generated by such speeds.
In true Pagani form, two passengers are treated to the most over the top, retro-fabulous interior imaginable, with lots of shiny pods for the gauges, carbon fiber trim and the richest leather this side of the sofas in a Medici sitting room.
Like it? Unless you can afford one, enjoy the photos. Pagani plans to make only about 20 per year, for the entire world. So, unless you live near the company's headquarters in Modena, or perhaps in Dubai, don't expect to see one parked in front of your house anytime soon.
Fox Car Report is on Twitter. Follow us @foxcarreport