Is GM telling the truth about its cars? Mexican-made Cruze sedans found at U.S. dealerships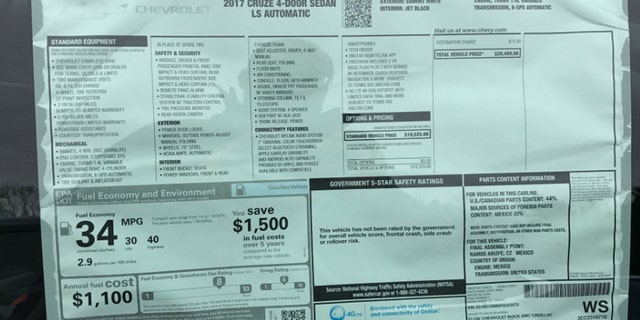 After President-elect Donald Trump ripped General Motors for making Chevy Cruze cars in Mexico, the automaker responded by saying only the hatchback model is imported from south of the border, and that all of the much more popular Cruze sedans sold in the U.S. are built in Ohio.
A new report now challenges that assertion.
Automotive website The Truth About Cars turned up two Cruze sedans on a North Carolina new car dealer's lot that had vehicle identification numbers and window stickers that clearly indicate that they were built at GM's factory in Ramos Aripe, Mexico, where the hatchbacks are also made.
A survey of dealer inventory by Daily Kanban writer Ed Niedermeyer found many more cars available across the U.S. with VINs indicating Mexico as their country of origin. One of them was even located at a showroom near Lordstown, Ohio - where GM claimed all the sedans are made.
Trump tweeted about the cars on Tuesday, threatening a "big border tax" for companies that import vehicles from Mexico, which is currently part of the NAFTA trade agreement he has denounced.
On Thursday, he similarly went after Toyota for its plans to build a new factory there to manufacture the Corolla.
A General Motors spokesperson confirmed to Foxnews.com that the company imported 8,400 Cruze sedans last year to supplement U.S. production during the launch of the latest model, something it announced at the time, but insisted that it hasn't brought any more in since the fall.
Chevy sold about 190,000 Cruzes last year, which was down 17 percent from 2015. That number includes the imported sedans plus 4,500 Mexican-made hatchbacks.
In November, GM announced that it was cutting a shift at the Lordstown plant due to low demand, and would be eliminating about 1,200 jobs there on January 23.