Indiana native Conor Daly ready for 'incredible' Indy 500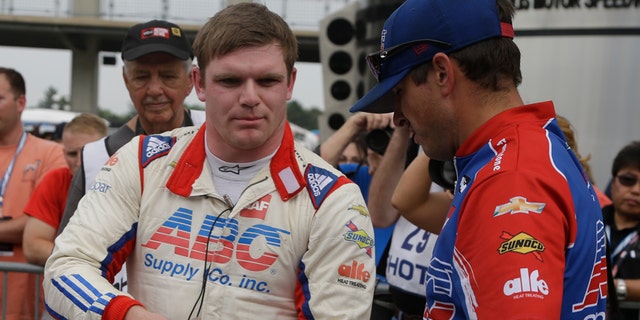 It's the motorsports version of the American dream.
Conor Daly, born and bred in Indiana, will start his engine for the fourth time in the Indianapolis 500 on Sunday. He's only 25, and already he's the local hero in the family business, following in the footsteps of his Irish-born father, Derek, who made a name for himself in Formula One and CART before he settled down in the Hoosier State.
"I was born in America," says Daly, who drives for AJ Foyt Racing. "And now I'm trying to wave that flag."
It wasn't luck that catapulted Daly into the spotlight at such an early age. He was a talented, award-winning go-kart racer before he achieved his dream of becoming a full-time driver on the Verizon IndyCar series, where — along with prominent Americans like Marco Andretti, Spencer Pigot, Graham Rahal and 2016 Indy 500 champion Alexander Rossi — he contends with a cadre of drivers from around the world.
WHY NASCAR CHAMP JIMMIE JOHNSON IS DRIVEN TO GIVE BACK
"There are still a lot of really good international competitors, obviously — legends from all across the world competing against us — but always [seeing] the American flag is really cool," Daly says. "Especially at the Indy 500, which is one of the most American events I've ever seen."
"We've been trying over the last few years to get more and more Americans in the series. There are a lot of good, young American drivers out there."
While many 25-year-olds have barely touched their passports, Daly has globetrotted through several racing series, including GP3 and GP2, on his way to IndyCar. He counts several American tracks among his favorites, including the Long Beach and St. Petersburg road courses and Wisconsin's Road America. When he races abroad, he prefers the treacherous Spa-Francorchamps in Belgium.
But running at Indy is "definitely not Nascar," Daly says. At Indy, you "learn something new every lap on track. [There's] so much that you gain with every lap of experience."
What makes competing at the Brickyard feel particularly American? The off-track activities have a lot to do with it. To capture the 101st Indy's American feel, Daly has a few suggestions.
"If you're going to come to the Indy 500, come for the weekend," he says. "It's an incredible show."
The must-dos include visiting the track's infield, aka Snake Pit; taking in the Coke Lot, where folks camp out and tailgate; and attending events like Carb Day — the final practice sessions ahead of the race.
The can-dos include concerts by Keith Urban, the Steve Miller Band and the Barenaked Ladies.
It all adds up to a "crazy American party," Daly says. "If you haven't been, give us a chance."
And when time comes for the actual race, Daly will have one thing on his mind: winning. He wants to wave Old Glory from the winner's podium and make Indiana proud.
"The next goal is to win the Indianapolis 500, win as many as [I] can in my career and win a championship as well," he says. "It's all about winning and trying to be better."