Honda's next hydrogen car coming in 2015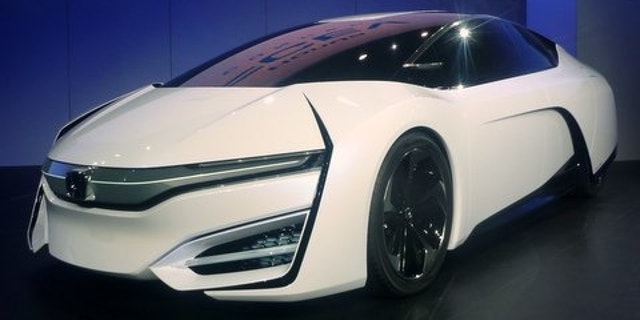 Los Angeles – Honda has been in the hydrogen car game for over a decade, and while its latest effort looks like it comes from the far future, its right around the block.
The FCEV (Fuel Cell Electric Vehicle) Concept on display at the 2013 Los Angeles Auto Show is a preview of the company's next generation hydrogen-powered vehicle, which is set to go on sale in 2015.
The sleek five-passenger four-door has all of the trappings of an ultra-efficient car, including skirts over the rear wheels like Honda's first hybrid car, the 1999 Insight, which still holds the record for highest fuel economy among vehicles without a plug-in battery.
Key to the FECV's design is a new fuel-cell powertrain that Honda says fits entirely in the "engine" room of the vehicle, rather than spreading its components throughout the car as many hybrids and electric vehicles do. Instead of burning the gas, a fuel cell combines it with oxygen in the air to generate electricity which drives an electric motor. It effectively takes the place of battery in an electric car, and its only emission is water vapor.
Details on power and performance have not been revealed, but Honda says the FCEV will have a range of over 300 miles per fill up, which takes less than three minutes at a hydrogen fueling station.
No word yet on pricing, but Honda currently leases its Clarity fuel cell vehicle for $600 per month with fuel and collision insurance included, so the new car should at least be competitive with that, if not less expensive.
It's not likely to be widely available at first, however, as the hydrogen distribution infrastructure is still in its nascent stage, with just a handful of public stations currently in operation, mostly in Southern California. But with several automakers, including Hyundai and Toyota also rolling out fuel cell-powered cars over the next couple of years, the industry is expected to start expanding along with the availability of vehicles.