Honda Ridgeline's plastic bed survives landscaping stone challenge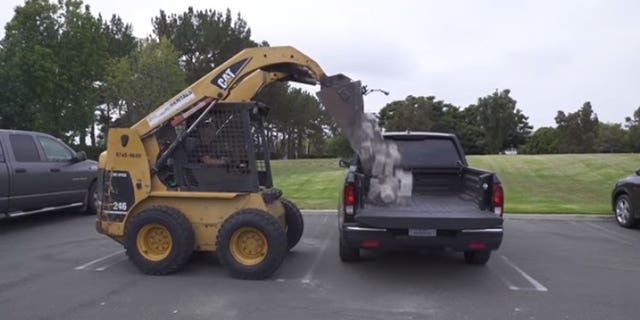 Honda is jumping into the steel vs. aluminum pickup bed debate with a third party candidate: plastic.
In response to a new Chevrolet advertisement that aims to demonstrate how a Silverado's steel bed can better handle having a load of landscaping stones dropped into it than a Ford F-150's aluminum one can, Honda has recreated the test with its new midsize Ridgeline pickup, which features a composite bed.
Since Honda posted the video, you won't be surprised to hear that the bed held up well. There were no dents, cracks or punctures, just a few scratches that are hard to see since the new Ridgeline's bed plastic is black all the way through. This wasn't case with the model it replaces, which was infamous for getting unsightly white scratches.
And it can't just take a punch. With a payload rating of 1,580 pounds, the Ridgeline can haul nearly as much as the midsize Chevrolet Colorado, which has a steel bed that's rated at a maximum of 1620 pounds.
Incidentally, many observers of the Chevy vs. Ford test suggested that they both would have fared better if they had plastic or spray-in bedliners. But they still wouldn't rock as hard as the Ridgeline.
That's because its bed has sound exciters built into its walls that turn the entire thing into a giant speaker for the audio system, a feature unique to the Ridgeline, along with the cargo compartment hidden under its floor.