Honda recalling hundreds of thousands of Odyssey minivans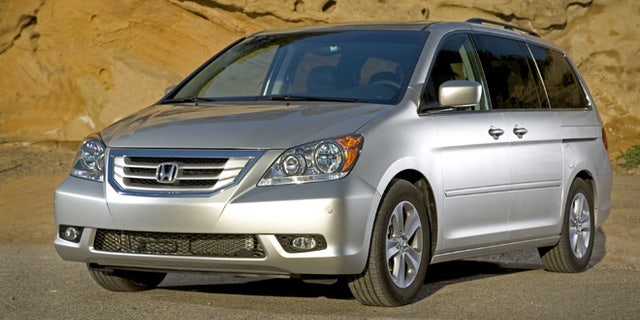 Honda Motor Co. announced Saturday that it is recalling 886,815 Odyssey minivans in the U.S. because a fuel pump cover can deteriorate and cause a fuel leak.
Odysseys from 2005 through 2010 model years are involved. The recalled minivans were made between June 23, 2004, and September 4, 2010.
According to documents posted Saturday by the National Highway Traffic Safety Administration, the cover on the fuel pump strainer can wear down from exposure to high temperatures and acidic chemicals, like those found in fertilizers. Fuel leaks can cause a vehicle fire.
Honda says no fires or injuries have been reported.
Honda dealers will repair the vehicles for free, but the company says replacement parts may not be available until this summer. It will notify owners of the recall next month.
This is the third recall in less than a year involving the Odyssey. In November, Honda recalled 344,000 2007 and 2008 models because of a computer malfunction that could cause "heavy and unexpected braking." Two months earlier, Honda recalled 318,000 of its 2003 and 2004 Odysseys due to possible airbag deployment that could take place without the vehicle being in an accident.
The Associated Press contributed to this report.