Hoard of cars found hidden in manor worth millions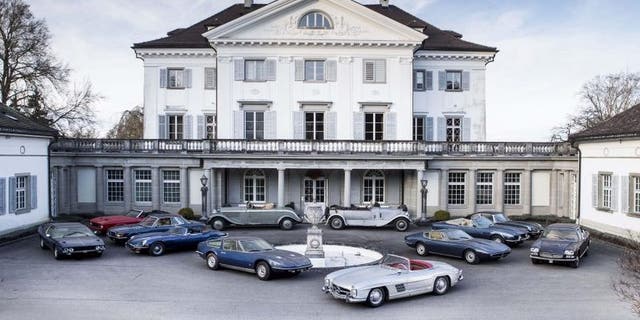 A swiss stately home has revealed what could be the Holy Grail of classic cars.
The stunning collection boasts 12 motors from luxury manufacturers including Rolls-Royce, Mercedes-Benz, Lamborghini and Maserati, with the oldest dating back to 1921.
Thought to have been started in the 1950s by a wealthy car enthusiast, the fleet is said to have remained largely untouched for years following the owner's death.
The collection was rediscovered last year by the former owner's son, and will be put up for auction later this month.
Two cars in particular hold exceptional value: a 1921 Rolls-Royce Silver Ghost Double Phaeton and a 1958 Mercedes-Benz 300SI Roadster.
Both have an estimated value in the range of £508,000 to £678,000.
The Roadster holds particular value, celebrating the model's 60th anniversary in 2017, making it a highly desirable piece.
Also included in the haul is a 1934 Rolls-Royce Phantom II (£68,000 – £102,000), a four-seater Lamborghini GT Espada (£59,000 – £85,000) and the fastest road car ever produced by Maserati, a 4.9L Ghibli SS (£85,000 – £127,000).
If all vehicles sell close to the top end of their estimated value range, the entire collection will pull in well over £2 million.
The cars will be auctioned off in Bonham's Spa Classic sale on 21 May at the legendary Spa-Francorchamps circuit in Belgium.