Helmet-mounted brake light makes motorcycle riders more visible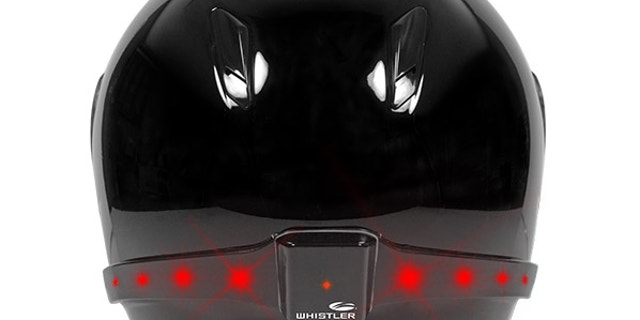 Car drivers have benefitted from a third brake light for decades. Mounted close to eye level in the rear window, these extra brake lights are especially visible in close traffic when taillights are harder to see. Now, a similar safety feature is available for motorcycle riders.
The Whistler WHL-80 Helmet Safety Light combines a bright, self-adhesive eight-LED display that mounts to any helmet, and a wireless transmitter connected to the motorcycles wiring. Once installed up, it gives riders a higher profile with an additional running light, along with brake lights and left and right directional signals that activate whenever the driver uses the motorcycle's existing controls.
Learn more about safe riding in our motorcycle hub, buying guide, and in our reliability and owner satisfaction report.
Powered by a built-in rechargeable battery, the system includes a USB cable for charging, and it can be configured for use with one or two helmets. A factory representative told us that installation is easy, explaining that it should be within the capabilities of many do-it-yourselfers.
More From Consumer Reports
We like the idea of the Helmet Safety Light. Automobile drivers involved in crashes with motorcycles often say they simply didn't see a motorcycle before colliding with it. Anything that helps make a rider more noticeable can't be a bad thing.
Available from assorted online retailers, the WHL-80 Helmet Safety Light sells for about $100.
—Jim Travers
Copyright © 2005-2014 Consumers Union of U.S., Inc. No reproduction, in whole or in part, without written permission. Consumer Reports has no relationship with any advertisers on this site.