Google patents sticky hoods to stick pedestrians to self-driving cars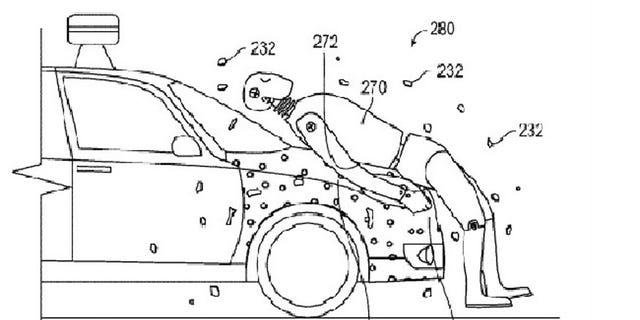 Google has patented a technology that would stick a pedestrian to the bonnet like a giant hood ornament in the case of a collision.
The patent is designed to protect a pedestrian or cyclist from injury through the secondary impact of them bouncing off the front of the car and back onto the road.
The patent was filed two years ago and approved by the United States patent office this week, although a Google representative has told the Mercury News that the existence of the patent does not mean it will emerge as a feature on the next generation of Google self-driving cars.
The patent describes the front of the car as being covered in a eggshell like coating that would crack in the case of a collision, just like the way airbags are inflated on impact.
"The adhesive layer may be a very sticky material and operate in a manner similar to flypaper, or double-sided duct tape," the patent says.
With the outer coating removed, the exposed adhesive layer would keep the person attached to the front of the car while the vehicle came to a halt.
The inventors of the technology are listed on the patent as Alex Khaykin and Dan Larner, who are both mechanical engineers with Google. Larner also has a patent pending on an invention of a car bumper bar with air sacs that inflate if the car hits a pedestrian.