GM caught testing possible mid-engine Chevrolet Corvette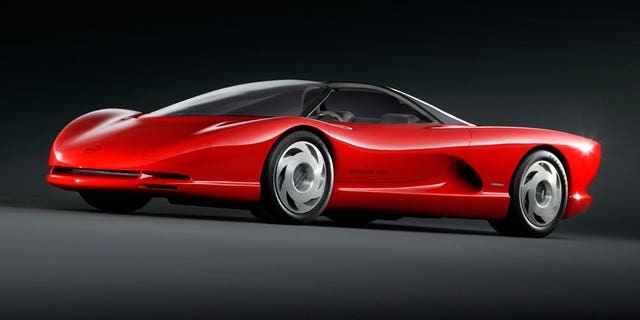 It may be the answer to the $729 million question.
Several media outlets have published spy photos of what appear to be the long-rumored mid-engine Chevrolet Corvette undergoing testing at General Motors' Milford Proving Grounds.
Shot from a great distance, the grainy images show a camouflaged prototype bearing the hallmarks of a mid-engine car, including a rear end featuring wide bodywork and flying buttresses with an empty space between them where an engine could be.
Only seen from the side and behind, the car is being driven in the company of a current generation front-engine Corvette, and shares the model's signature twin taillights.
Car and Driver reports that its debut will take place at the 2018 Detroit Auto Show and mark the end of the front-engine Corvette. Its price is expected to start at $80,000, about the same as today's top of the line Corvette Z06 and $25,000 more than a base Corvette Stingray. By contrast, the mid-engine Ford GT will cost around $400,000 when it goes on sale later this year.
While General Motors has not officially confirmed it is even considering a mid-engine Corvette or Corvette replacement, when asked about it at the 2015 Detroit Auto Show, GM product chief Mark Reuss told FoxNews.com to "stay tuned … the brand that sells more performance cars than anybody else in the world, we're known for surprises."
Several recent moves by the automaker suggest one could be on the way.
The first were trademarks for the names Zora and E-Ray filed over the past couple of years. Zora Arkus-Duntov was the engineer that turned the Corvette into a true performance car, so a next-generation model honoring him is possible, while E-Ray suggests a hybrid powertrain option could be in the works, pitting the mid-engine Corvette against the likes of the Acura NSX and BMW i8.
More recently, General Motors announced a $290 million investment in the Bowling Green Assembly facility where the Corvette is built to "modify the plant's vehicle assembly operations with new technologies and processes," without spelling out exactly what those are for. This follows a $439 million investment for a new paint shop at the factory, which only builds the Corvette at the relatively low rate of about 25,000 cars annually.
It is possible that General Motors has plans to amortize that investment by building a car for another one of its brands on the same platform, as it did with the 2004-2009 Cadillac XLR. Cadillac President Johan De Nysschen lent credence to such a move at the 2015 Detroit Auto Show, telling FoxNews.com "I think there is room for a halo performance car such as that in our lineup," adding that one "will come."
----------
Most powerful Corvette ever