France family 'committed' to NASCAR amid talk it's for sale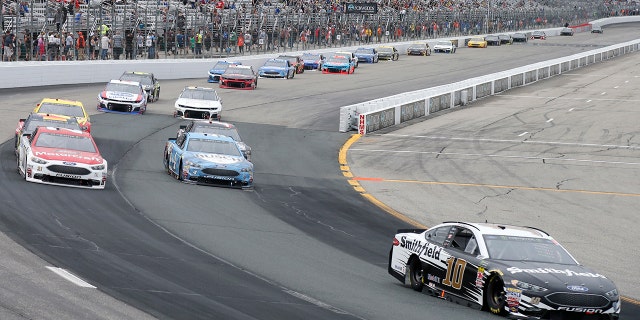 NASCAR Chairman Brian France insisted Wednesday that his family is dedicated to its racing properties despite a report the business is for sale.
France was asked on SiriusXM NASCAR Radio about a potential sale of NASCAR. Reuters reported in May the France family was exploring a sale of NASCAR's sanctioning body. Forbes last month said the France family was seeking only minority investors.
Both reports cited unidentified sources, and France referred to them as "rumors."
"The France family is locked and loaded in its dedication to NASCAR," France said. "We're focused on ruling and managing NASCAR. There's nothing to report on that. Rumors are always interesting, but they're seldom right."
France has not made himself available to reporters since the Reuters report. He occasionally calls unprompted into one of Sirius' NASCAR shows and his brief segment Wednesday covered several topics pertaining to the series his grandfather founded.
Brian France is the CEO and chairman of NASCAR. Jim France, his uncle, and Lesa France Kennedy, his sister, are executive vice presidents. France Kennedy is also the CEO of International Speedway Corp., and Jim France is the chairman. ISC owns 13 of the tracks on which NASCAR hosts 19 major racing events.
Jim France also heads IMSA, the sports car series, and was instrumental in NASCAR's recent acquisition of ARCA, a low-level stock car series.
France used a portion of his call to Sirius to laud both IMSA and his uncle's vision.
"I think we're the best road racing show in town," France said. "I will tell you that road racing in general is more popular than ever. IMSA, our brand of road racing that we've been trying to do for a number of years, is more popular than ever, more manufacturers are participating and I'm excited about it. My uncle has done an incredible job. He's put his heart and soul into this thing and it pays off."
France said he doubted NASCAR will entertain Tony Stewart's push to add either a Cup or Xfinity Series race to Eldora Speedway, the dirt track in Ohio owned by the retired NASCAR star. Eldora currently hosts a popular Truck Series event, but Stewart wants more NASCAR action.
"Probably not going to have that phone call any time soon," France said of talking to Stewart. "The schedule is pretty full. He's done a great job of running Eldora and other things he's doing in the dirt track stuff, so good for him."