FoxNews.com Auto's Favorite Four Cars and Trucks of 2016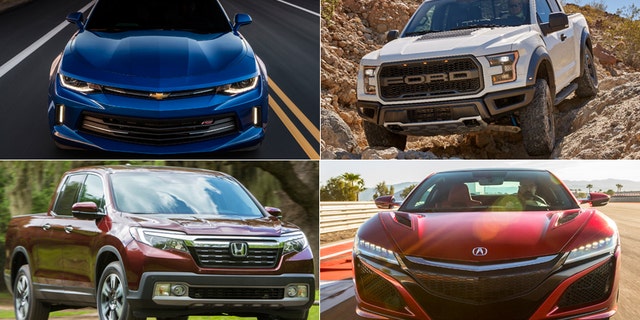 2016 was the year that trucks and crossovers firmly took control of the marketplace, so it's fitting that there's a pickup truck that's basically a crossover on this list. But there are also cars! Because there are still some darn good ones out there, even if people don't buy them anymore.
As always, my methodology was simple: From all of the newly-introduced vehicles I drove this year I picked the four that most made me believe the hype. Why just four? Any number for a list is arbitrary and, frankly, it's easiest to fit four vehicles in group image, so I'm going with that from now on.
The sixth generation Camaro is a pony car for the CrossFit era. It's light and tight, powerful and quick, and has the trim, chiseled looks of someone who just climbed Mt. Midoriyama. With its 335 hp, the V6 model may go down in history as the best naturally-aspirated six-cylinder American sports car ever made, but the 455hp V8-powered Camaro SS will let you slam the buzzer with time to spare.
A lot of people buy pickup trucks because they want them, not because they need them. For those that need one, but don't really want one, there's the Honda Ridgeline. Based on the same unibody platform used by the Honda Pilot SUV and Odyssey minivan, it's more like a car than the Chevy El Camino was. It's not much of an off-roader, but it's refined, comfortable, and even has a trunk. It's hidden under the bed, which can carry over 1,500 pounds and doubles as a giant speaker when it's empty. Put rocks in it, or rock on, it's up to you.
Then again, when kids play with toy trucks, they don't pretend to take them to the mall, or pick up mulch. They play with them in the sandbox. The Ford F-150 Raptor is the realization of that dream. The most high performance pickup ever made can blast through the desert at 100 mph, leap over giant dunes, and climb up rocky hills that get in its way. So if you see it coming, get out of its way.
Acura spent more than five years working on the new NSX (10 if you count its first aborted attempt), but it was worth it. The all-wheel-drive hybrid supercar has FOUR motors -- three electric ones and a racing-derived 3.5-liter V6 -- plus a 9-speed automatic transmission and electricity-generating brakes. You'd never know it when you step on any of its pedals. It's all perfectly blended, and the NSX's feels much faster than its 573 hp combined rating suggests it should. The fact that it's made in the USA just seals the deal.
@GaryGastelu is FoxNews.com's Automotive Editor