Ford Unveils 'New' 1965 Mustang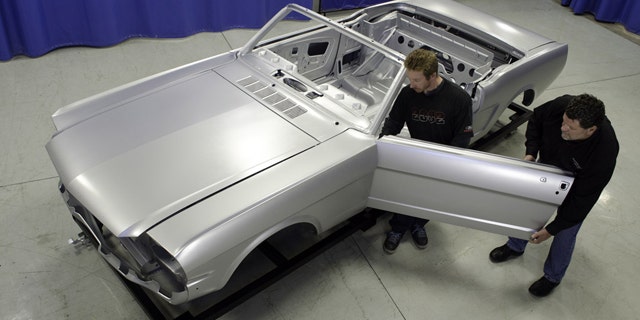 It's now possible to build a brand new '64½, '65 or '66 Ford Mustang convertible from the wheels up using this latest Ford-approved and officially licensed body shell.

Unveiled today ahead of its public debut at next week's 2011 Specialty Equipment Market Association (SEMA) show in Las Vegas, the new body shell joins previous 'restoration parts' versions for the 1967-68 and the 1969-70 fastback Mustang bodies.

The standard design is for the '65 Mustang convertible but the original '64½ as well as the later '66 can be built depending on which powertrain and trim parts are added to it.

The body, which is currently being produced by Dynacorn and is ready for delivery, is priced at $15,000 and includes the doors, trunk lid, and all the sheet metal from the radiator support to the taillight panel except the hood and front fenders.

Unlike the original Mustangs of the 1960s, the new body shell is made using modern welding techniques and comes fully rust-proofed. This should ensure the cars are around to stay well into the future. The original Mustang sold more than 1.2 million units--including more than 174,000 convertibles--before its first redesign in 1967, but finding one in good nick is getting harder and harder these days.

To build a Mustang using the body shell, the powertrain, suspension and brakes, the electrical systems, the interior and trim can either be bought new or transferred from an existing car to the new body. You'll find most of the parts from Ford-approved classic parts suppliers.
Click here for more from MotorAuthority