Ford Sees Chance to Woo Japanese Buyers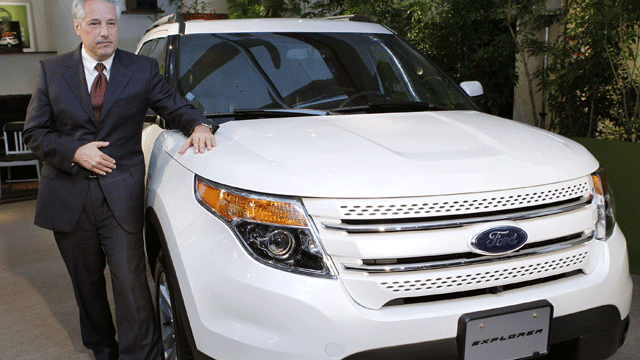 TOKYO – Ford sees a big chance to snatch buyers away from Japanese automakers battling production delays caused by the March earthquake and tsunami, and vehicles in the works could help deliver it growth in a long-difficult market.
"The opportunities for Ford in Japan have never been greater," Ford Japan Chief Executive Tim Tucker said Tuesday of the products planned for Japan.
Like other U.S. automakers, Ford Motor Co. has lagged in a market dominated by local manufacturers such as Toyota Motor Corp., Nissan Motor Co. and Honda Motor Co.
American cars don't enjoy much of a reputation in Japan, partly because they tend to be too large for Japan's crowded streets, and they have built an image over the years as gas-guzzlers that break down.
But Japanese car makers have not been able to produce at full capacity since the March 11 magnitude-9.0 earthquake and ensuing tsunami destroyed key auto-parts makers in northeastern Japan.
Some customers aren't expecting their vehicles delivered for months in Japan, some until next year.
And that is an opportunity for imports, including cars made by Ford, based in Dearborn, Michigan.
Tucker said there have been signs that people who might have otherwise bought a Toyota or Honda are opting for a Ford.
Tucker was speaking at a Tokyo cafe, where the remodeled Ford Explorer sport utility vehicle, selling for 4.4 million yen ($53,800) and 5.3 million yen ($64,800), was shown to reporters.
Orders started being taken Tuesday. Deliveries are set for September in Japan. The model went on sale in North America in December.
Ford is planning 50 new products and powertrains over the next four years in the Asia-Pacific and Africa. It also plans five environmentally friendly models, such as electric vehicles, hybrids and plug-ins, globally next year, but declined to say if any would be sold in Japan.
Ford's sales in Japan grew 5 percent in 2010 over the previous year, but it sold just 700 Explorer vehicles here last year. That contrasts with Explorer sales in North America totaling 42,000 in January-April alone.
Its overall Japan sales at 2,400 vehicles last year make up about 1 percent of the Japanese import market, and a fraction of 1 percent of the overall Japanese auto market.
Ford, the second-largest U.S.-based automaker, has invested $4 billion since 2006 for growth in Asia, the Pacific and Africa, and is hoping to build its brand in Japan as "quality, safe, smart and green," according to Tucker.
The Japanese auto market has been stagnant for years. But the disaster that devastated the northeastern coast, leaving more than 25,000 people dead or missing has further depressed consumer sentiment.
Auto production in Japan for March plunged 57 percent from a year earlier to 404,039 vehicles — marking the sixth straight month of decline.
While acknowledging Ford must be cautious about prospects in the troubled Japanese market, Tucker appeared confident, saying its Japan sales had not been hurt by the quake.