Ford Police Interceptor quickest to 60 mph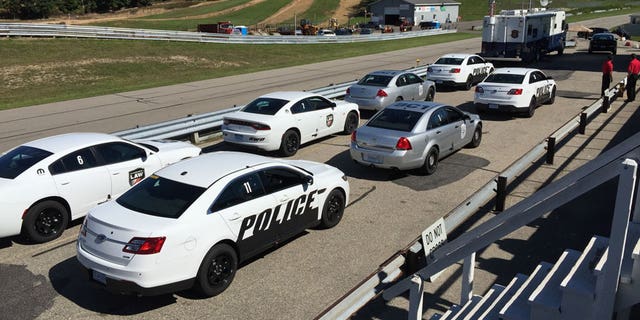 Ford's cop cars posted another year of strong results in evaluations by the Michigan State Police and Los Angeles Sheriff's Department. The Blue Oval's 2016 Interceptors claim top scores for acceleration and lap times in both agencies' tests, and another one of its models earned pursuit-rating status.

Both police departments now mandate that evaluations are conducted in the vehicles' default states, which means traction and stability control systems remain activated. Ford already configured its vehicles this way, company spokesman Chris Terry told Autoblog, and the company claimed the rule change only helped this year's results. In the LASD's 0-60 miles-per-hour acceleration test, the all-wheel drive Interceptor Sedan with the 3.5-liter V6 EcoBoost sprinted there in 5.8 seconds, compared to 6.6 seconds for the rear-drive 5.7-liter V8 Dodge Charger and 6.7 seconds for the 6.0-liter V8 Chevrolet Caprice.

The MSP published preliminary results of its tests (as a PDF), and Ford topped two major criteria there. The 3.5 EcoBoost sedan with all-wheel drive managed an average lap time of 1:35.66 to beat the all-wheel drive 5.7-liter Charger's 1:36.12. The same Blue Oval model sprinted to 60 mph in 6.17 seconds to best the Caprice's run of 6.26 seconds.

General Motors also scored a few victories in the MSP's evaluations. For example, the company touted that its models had the highest top speeds in their segments, and the Caprice had the best overall at 155 mph. The "results demonstrated that all Chevrolet police vehicles performed very competitively in all tests," GM said in a statement.

Both police departments also now say the Ford Police Interceptor Sedan with the 2.0-liter EcoBoost four-cylinder is ready for a chase. Ford introduced the model in 2013, and it passed the LASD and MSP's 32-lap tests this year. According to Terry, there are no changes to the model this year, but they "concluded that it could (and now is) pursuit rated."
----------
More from Autoblog:
Ford F-150 wins Green Truck of the Year
Paul Walker's father sues Porsche