Ford offering packages to add some GT350 to the Mustang GT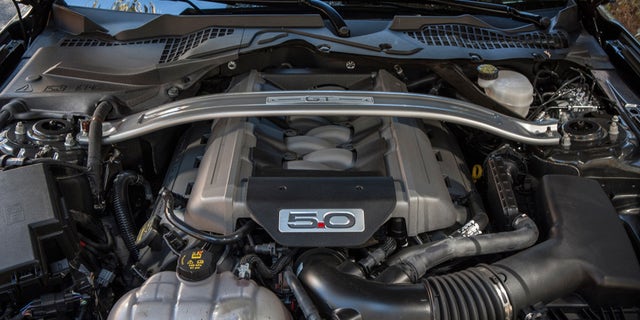 The current Ford Mustang GT is no slouch in the performance department. Its 435-horsepower V8 and impressive handling make it a great sports car right out of the box. But some people are never satisfied, especially since the Shelby GT350 came out. For them Ford, has an answer – actually three of them.

Ford Performance will begin selling stage packages of parts and engine tunes called Power Packs for stock Mustang GTs; they work on cars from the 2015 to 2017 model years. Power Pack 1 is very basic featuring just a K&N high-flow air filter and an ECU tune, yielding gains of 13 horsepower and 16 lb-ft of torque. It also provides a nice low-end bump to torque with an extra 40 lb-ft at 1500 rpm.
More from Autoblog:
Inside the Shelby GT350's screaming V8
Ford Focus RS "Drift Mode" wasn't planned
The Bristol Bullet is here, and it's lovely
The second two packages bring parts from the wild, track-oriented Shelby GT350. They each come with their own tuning calibrations and slightly differing parts groups. Power Pack 2 includes the GT350's cold-air intake and an 87-mm throttle body, while stage three adds the GT350's intake manifold. Stage two adds 21 hp and 24 lb-ft of torque; Power Pack 3 is good for 37 hp and some amount of torque, although we're checking on the number with Ford Performance because the 5-lb-ft gain listed on the site doesn't make much sense to us given the stage two figures. And as great as the power gains in the stage three package are, even more impressive is the top-end gain: a likely very noticeable 60 hp at 7500 rpm.

The first package goes on sale at the beginning of August with the other two becoming available in September and October. Of note for prospective buyers is that these packages are 50-state legal. So even Mustang GT owners in California and other CARB states can enjoy these new upgrades. That being said, the packages will only be available in North America for the time being.
----------
Test Drive: Ford Mustang Shelby GT350: