Ford Mustang Shelby GT350 demand pushing up prices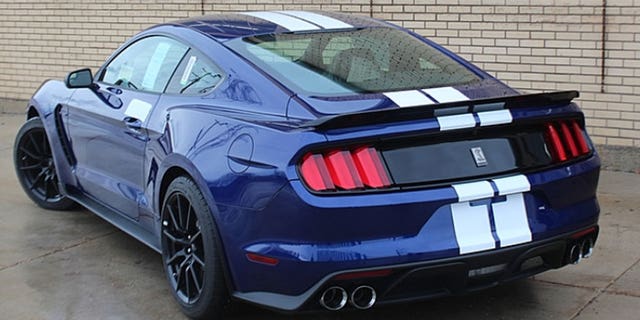 The new Ford Mustang Shelby GT350 is already a classic. At least, it's selling like one.
One of the high-performance coupes was recently sold at a Mecum Auction event in Kissimmee, Fla., for $115,000 – more than double its sticker price of $55,000.
And the winning bidder may have gotten a bargain. Only 100 GT350s and 37 two-seat GT350Rs were built last year, and the auction car, which was still in the wrapper, was one of only three that were painted blue with white racing stripes and equipped with the optional Track Pack.
But it's not the only Mustang prancing around with a six-figure price tag. Another of the 2015 models is currently advertised by Van Bortel Ford in East Rochester, N.Y., for $149,500, and a 2016 GT350R that hasn't even been built yet has been posted to Hemmings.com for $175,000. As of this writing, Cars.com lists three other 2016 GT350s with asking prices over $100,000 and dozens more for $80,000 and above.
While Ford hasn't revealed how many GT350s it will build this year, production "will be consistent with the volumes of our previous performance Mustang, the Ford Shelby GT500," a spokesman told FoxNews.com. Fewer than 6,000 of those were sold, so many of Ford's roughly 3,100 dealers will be lucky to get their hands on just one GT350.
The GT350 isn't the only American muscle car that's seen these kinds of "market adjustments" added to their price in recent days. Markups on the similarly low-volume Dodge Challenger and Charger Hellcat models got so out of hand last year that the automaker, in an effort to encourage dealers to bring the prices down, had to update its allocation policy to penalize the ones who didn't sell their cars in a timely fashion. Nevertheless, it's still common to see the $65,000 cars listed for over $100,000.
The Ford spokesman said the company recommends that its dealers sell cars at the MSRP, but since they're all independently owned, there's only so much the company can do about it. That said, a leaked copy of its allocation program suggests that the more regular Mustangs the dealers sell, the more GT350s they get. The bonus for every three of those earned is a GT350R.
And while the GT350 is sold only in the United States and Canada, a similar situation is developing on the other side of the globe.
For the first time ever, Australia is getting factory-built right-hand-drive Mustangs, but not nearly enough of them. There's a year-long waiting list for V8-powered Mustang GTs, and Cars Guide reports that dealers and "scalpers" are flipping the $57,490 (AUD) cars for as much as $30,000 over list.
Pony up.
----------
Return of the Shelby GT350