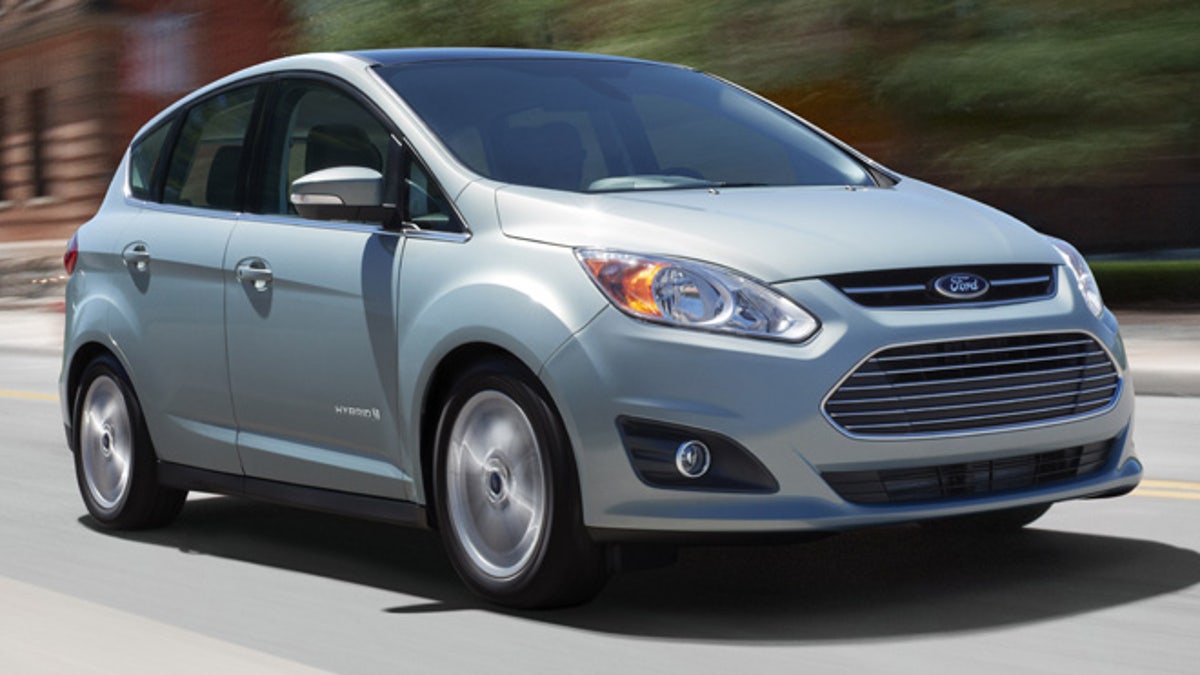 This is starting to look not so good.
It appears that two new hybrid cars from Ford--the 2013 C-Max Hybrid hatchback and the 2013 Fusion Hybrid sedan--may not deliver real-world gas mileage that's anywhere near their 47-mpg EPA ratings.
Automotive journalists have been quietly discussing this for a few weeks, since Ford began releasing C-Max and 2013 Fusion vehicles into media test fleets.
C-Max Hybrid: stretching to hit 40 mpg?
It's still early yet, and it's possible that gas mileage may improve slightly in the cars once several thousand miles have accumulated on each one.
But Green Car Reports has tested the C-Max twice, once at Ford's media drive and once over a quick weekend route.
In the first case, the C-Max delivered 37 mpg over 50 miles of mixed freeway and urban driving. Over our weekend route, we got 40 mpg over 240 miles, mostly at freeway speeds.
And other outlets had similar results.
Most awkwardly for Ford, Larry Vellequette of Automotive News has documented his struggles to achieve anything close to 47 mpg in the C-Max Hybrid he bought for family use.
His average gas mileage was 37 mpg.
Vellequette even got chief engineer John Davis to show him the most fuel-efficient driving techniques, but he still couldn't approach a sustained 47 mpg.
Moreover, the eight C-Max Hybrid owners who have submitted their real-world mileages to FuelEconomy.gov averaged just 40.7 mpg.
2013 Fusion Hybrid too?
Now tests are starting to emerge for the 2013 Ford Fusion Hybrid, the most fuel-efficient model of the company's new mid-size sedan.
And, again, they seem to be far below the EPA numbers, which duplicate those of the C-Max Hybrid at 47 mpg for all three ratings: city, highway, and combined.
Jason Harper, testing the Fusion Hybrid for Bloomberg, got 36.9 mpg.
Gary Gastelu, testing the hybrid sedan for Fox News, wrote, "Even though I intentionally left my lead shoes at home and light-footed the Fusion Hybrid as much as possible (proving once and for all that I can, in fact, drive 55 mph) I took a lot of work to get it anywhere near 40 mpg, let alone that magic 47 mpg mark."
Only two owners have submitted real-world ratings for the 2013 Fusion Hybrid to FuelEconomy.gov, but their average was even worse: 35.0 mpg.
Last generation: on the money
The discrepancy is all the more surprising because the last-generation Ford hybrids seemed to hit their mileage numbers on the nose.
The late Escape Hybrid, rated at 29 mpg in its all-wheel drive model, generally achieved 28 to 32 mpg.
In our test of the last-generation Lincoln MKZ Hybrid, we registered 40.5 mpg over a 250-mile route with a majority of highway mile--better than its combined EPA rating of 39 mpg.
Similarly, The Car Connection got around 40 mpg on its week-long test of 2010 Ford Fusion Hybrid.
Moreover, all members of the Toyota Prius line of four vehicles appear to deliver real-world mileage within about 10 percent of their combined EPA ratings.
Those are 50 mpg combined for both the Prius Liftback and the new Prius C subcompact, and 42 mpg for the Prius V wagon.
Power too tempting?
We spoke with three separate Ford engineers and executives at last week's C-Max Energi media event, asking them why the real-world figures might be so different from the EPA ratings.
Each noted--as if in unison--that different owners will achieve different mileage results, that efficiency depends greatly on driver behavior, and that customers have told Ford about real-world mileages both above and below the 47-mpg combined rating.
Pressed further, one engineer noted that because the newest hybrids have a great deal more power than comparable Prius models--54 hp more, as Ford touts in its marketing--it may be that drivers are tempted to use that power.
Heavy acceleration and spirited driving, he suggested, could do some serious damage to mileage figures achieved with a light foot and a great deal of pre-planning.
What mileage do you get?
We think there will be more to this story in the months ahead, as more and more C-Max Hybrids and Fusion Hybrids hit the streets.
Certainly the lure of a compact five-door hatchback and a mid-size sedan (a nice-looking one at that) that each achieve 47 mpg is undeniable.
But as Hyundai and Kia just recently found out, when the truth comes out, it's not pretty--and if mistakes in testing were made, it can cost the company a lot of money.