Ford, GM, Chrysler All Post Sales Gains in April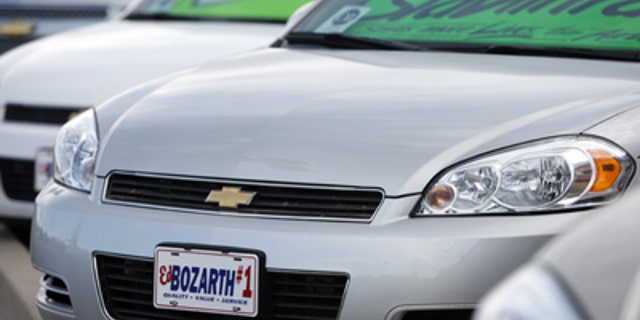 DETROIT - Car shoppers took a wait-and-see approach in April, easing up on purchases as the lure of big incentives faded and hoping summer brings a new flurry of deals.
Automakers will have to match incentives from Toyota Motor Corp. at least through Memorial Day. Toyota said Monday it will continue to offer zero-percent financing and two years of free maintenance on certain vehicles through June 1. It is also offering unprecedented deals on its Lexus luxury brand.
The industry stayed on the road to recovery in April after last year's dismal numbers, with most major automakers seeing double-digit sales gains But sales were down from March, when Toyota launched record-high incentives to lure buyers after a series of safety recalls.
Incentives continued in April but were 5 percent lower as automakers tried to pull back on spending. Jessica Caldwell, an industry analyst with auto information website Edmunds.com, said incentives generally lose their luster after a few weeks.
"April gave us a sense of what true demand is out there," said Jessica Caldwell, an industry analyst with Edmunds.com. "There was no holiday weekend, and it was tax time. The sales we got in March were not really sustainable."
James Bell, an analyst with auto pricing company Kelley Blue Book, said the March incentives conditioned buyers to look for bargains. As a result, he thinks automakers will have to offer deals well into the summer.
"I think everyone's in check right now. There's an uneasiness that they'll launch something in the summer," he said.
Ford Motor Co. saw last month's sales rise 25 percent from a year earlier, while General Motors Co. climbed 6.4 percent. Sales for Toyota Motor Corp. rose 24 percent, but that was far slower than the year-over-year jump of 41-percent in March.
Even Chrysler, which has struggled much of the year, reported a 25 percent sales increase, while Honda, Hyundai, Subaru and others also continued to see gains.
Even though incentives fell, there were still were good bargains in April. Honda Motor Co. spent a record $1,787 per vehicle, while Toyota spent $2,498, down $245 from record-high levels in March. GM spent $3,273 per vehicle, although that was skewed by high incentives on the brands it is discontinuing.
GM said it spent $100 less per vehicle in April than in March.
"We'll be judicious with our incentives," said Steve Carlisle, GM's new vice president of sales. "We'll be competitive but not foolish."
Toyota used incentives to continue to spur demand as it distanced itself from safety recalls involving unintended acceleration. But sales slowed 16 percent compared with a strong March.
The Japanese automaker said its April sales were propelled by some of the vehicles involved in previous recalls like the Corolla compact, Prius hybrid and RAV4 small crossover vehicle.
Honda's sales, including the Honda and Acura brands, rose 12.5 percent over April of last year.
Chrysler reported its first double-digit sales gain in nearly five years, led by a minivan promotion that drove sales up 68 percent. It saw sales surge for its Chrysler Sebring and Dodge Avenger midsize sedans.
But its Ram pickup truck sales dropped a troubling 20 percent, even as main competitors GM and Ford reported rising pickup sales.
Chrysler's sales bucked industry trends and rose 3 percent over a March.
After taking out brands that GM is phasing out or selling, GM sales rose 20 percent from April of last year. GM's four remaining brands are Chevrolet, Buick, GMC and Cadillac.
The Detroit-based automaker saw strong sales of several new products, including the Chevrolet Camaro, Chevrolet Equinox, Buick LaCrosse and GMC Terrain. Full-size pickup truck sales rose 8.4 percent, an indicator that the construction business is in recovery.
April was the fifth month in a row that Ford posted an increase of 20 percent or more compared with the same month in the prior year.
The Dearborn, Mich.-based automaker's pickup sales were particularly strong. Ford said F-Series sales jumped 42 percent thanks to the new Super Duty truck. SUV sales rose 33 percent, led by the Escape and Explorer. Car sales rose 10 percent.
Korean automaker Kia Motors Corp.'s April U.S. sales rose 17 percent on strong demand for its newly released Sorento crossover and Forte sedan. Hyundai's sales increased 30 percent on rising demand for the new Sonata midsize sedan.
Subaru's U.S. sales soared 48 percent the back of its Outback small wagon, which doubled its sales from April of last year.
GM's Carlisle said his company's performance is consistent with a slow and steady economic recovery. The automaker stuck with its forecast of total U.S. light vehicle sales of 11.2 million to 11.7 million for the year.
That's better than last year's 10.4 million, but far below the peak of more than 17 million in 2000.
Consumer spending rose 0.6 percent in March, the largest amount in five months. Yet the increase was financed out of savings. Incomes rose only slightly. Factory activity in April grew at the fastest pace in nearly six years.