Ferrari F1 car hits pit crew member, cracks leg bones in half
NEWYou can now listen to Fox News articles!
A member of Ferrari's Formula One pit crew suffered a gruesome injury at Sunday's Bahrain Grand Prix when one of the team's cars drove over his leg during a botched tire change stop.
Francesco Cigarini was trying to remove a stuck wheel when the car, driven by Kimi Raikkonen, was mistakenly lowered from its jacks and given the all clear to pull away.
WARNING -- GRAPHIC VIDEO:
Video of the incident shows the car's left rear tire striking Cigarini's lower leg and snapping it in the middle as he falls to the pavement.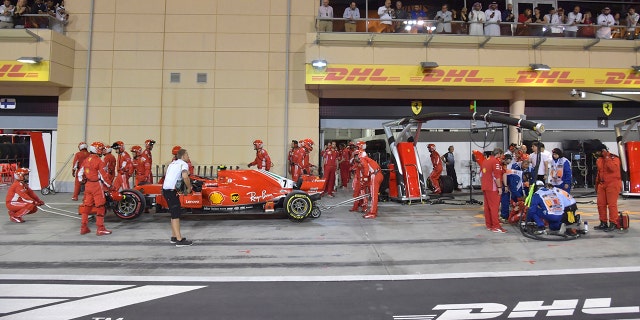 Raikkonen immediately stopped the car and retired from the race as Cigarini was rushed to the hospital, where doctors confirmed he suffered fractures to both his tibia and fibia.
Cigarini took it in stride -- so to speak -- and later posted to Instagram that his surgery was "OK" and giving a thumbs-up in an image showing his full-leg cast.
Raikkonen told Sky Sports, "I go when the light is green. I don't see what happens behind. Unfortunately he got hurt, but my job is to go when the light changes,
Ferrari driver Sebastian Vettel won the race, but the team was fined 50,000 euros for the unsafe release of Raikkonen's car.
ARE YOU FOLLOWING FOX NEWS AUTOS ON FACEBOOK YET?