Feds: Runaway N.Y. Prius Did Not Have Brakes Applied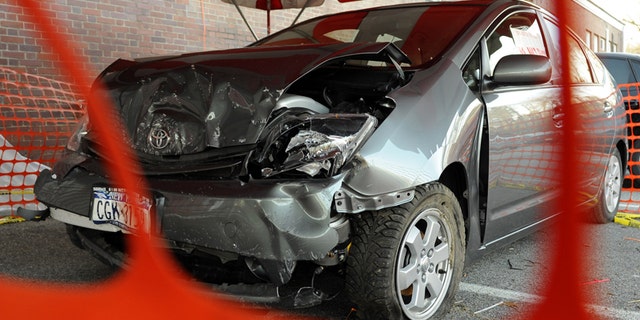 A day after technicians from Toyota and the National Highway and Traffic and Safety Administration (NHTSA) were in Harrison, N.Y., collecting data from a Toyota Prius that allegedly crashed due to sudden unintended acceleration, a statement from the federal agency indicates that their findings contradict the driver's version of events, but does not necessarily rule out a mechanical malfunction.
According to NHTSA, "information retrieved from the vehicle's onboard computer systems indicated there was no application of the brakes and the throttle was fully open." A spokesperson from NHTSA would not elaborate on the statement.
In interviews with the Harrison Police Department after the crash, the driver said that she believed she stepped on the brakes after the car lurched forward as she was pulling out of a driveway, sending her across two lanes of traffic into a stone wall at an estimated 40 mph. The car was damaged, but the woman escaped serious injury.
The black box data recorder in the 2005 model year Prius involved in the incident stores information on the position of the brake and throttle pedals at the time of an impact and just after, but not before as newer versions of the technology do. While the NHTSA findings could mean that the driver was pressing the accelerator instead of the brakes as reported, they do not rule out the possibility that that the brakes were applied in the split second before the crash happened, or that the accelerator pedal itself was stuck.
When reached for comment, a Toyota spokesperson responded via e-mail that "the Harrison Police Dept. has jurisdiction in this case. We will await their official report."
Captain Anthony Marraccini, acting police chief of Harrison, told Foxnews.com that "it is premature and irresponsible to release any information until the investigation is complete."
Prior to the NHTSA announcement, Marraccini told Fox News that, due to media pressure, he his hoping to release the police department's analysis of the data by Monday.