Feds probe reports that Ford hybrids aren't living up to fuel economy ratings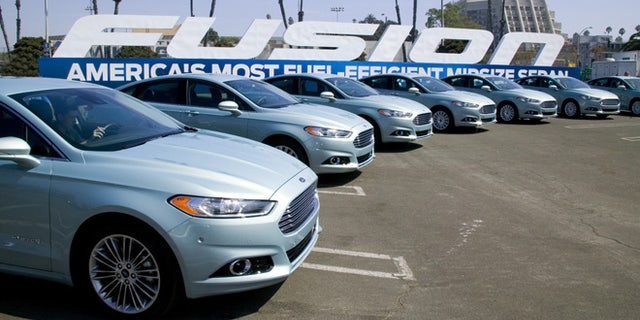 The Environmental Protection Agency is reviewing claims that Ford's latest hybrids aren't living up to their fuel economy ratings, The Detroit News reports.
The official move comes after several automotive media outlets found the 2013 Ford Fusion Hybrid and 2013 Ford C-Max Hybrid failed to live up to their 47 mpg ratings in real world testing.
In a story posted last week, Consumer Reports said the Fusion Hybrid and C-Max Hybrid were only able to deliver 39 mpg and 37 mpg, respectively. In November, a FoxNews.com review of the Fusion Hybrid noted similar results.
Most automakers self-certify their fuel economy ratings based on testing procedures dictated by the EPA. Only 15 percent of the new cars sold each year are directly tested by the agency at its National Vehicle and Fuel Emissions Laboratory in Ann Arbor, Michigan.
The system has come under increased scrutiny in recent weeks after Hyundai and its sister company Kia were found to have reported overstated fuel economy ratings due, they said, to a calculating error during their in-house testing. The automakers have promised to compensate owners of the affected cars, over 900,000 of them, for the extra money spent on fuel compared to the advertised ratings. The EPA investigation into the matter is ongoing, and the agency could still decide to level civil penalties against the automakers.
Neither Ford nor the EPA has yet confirmed if the hybrids currently in question were self-certified by Ford or previously tested at the EPA laboratory.
A Ford spokesperson tells FoxNews.com that the company is "aware of the EPA's comments" that it will review the Consumer Reports findings and says Ford will "fully cooperate" if it becomes involved. He adds that "early C-MAX Hybrid and Fusion Hybrid customers praise the vehicles and report a range of fuel economy figures, including some reports above 47 mpg. This reinforces the fact that driving styles, driving conditions, and other factors can cause mileage to vary."
Ford is also introducing plug-in hybrid versions of the Fusion and C-Max under the Energi name, which have larger batteries that can be charged from an electrical outlet, giving them the ability to travel up to 21 miles on battery power alone, according to Ford. The upcoming Fusion Energi has yet to be certified, but the C-Max Energi, which is currently on sale, has been given an EPA fuel economy rating equivalent to 100 mpg. It is not known if this model is being included in the current review.
Ford posted its best ever monthly sales electrified vehicle sales in November, delivering 3,589 C-Max Hybrids, 1,259 C-Max Energis and 1,834 Fusion Hybrids.