Federal Government Cannot Explain Runaway Prius Incident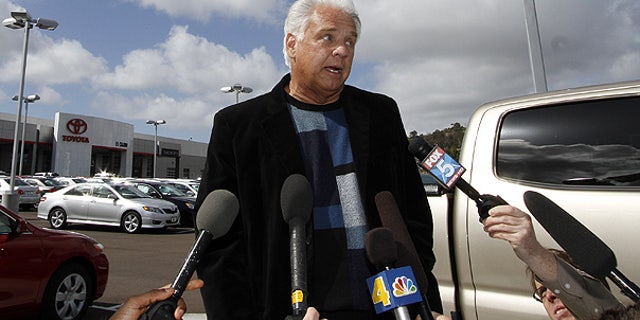 The federal government said Monday it cannot explain a reported incident of sudden, high-speed acceleration in a Toyota Prius on a California freeway last week, a malfunction the driver's lawyer is describing as "the ghost in the machine."
The National Highway Traffic Safety Administration said in a statement that it continues to investigate but "we may never know exactly what happened with this car."
Prius owner James Sikes called 911 last week to report losing control of his Prius as the hybrid reached speeds of 94 mph. A highway patrol officer helped bring the vehicle to a safe stop.
On Monday, Sikes' attorney, John Gomez, said it's "not surprising" that investigators have not been able to replicate the incident.
"This problem is sort of a ghost in the machine that is the Toyota system," Gomez said Sunday. "It doesn't leave a fault code, it doesn't leave a footprint and you can't make it happen upon demand."
"They have never been able to replicate an incident of sudden acceleration. Mr. Sikes never had a problem in the three years he owned this vehicle," he added.
The NHTSA said its engineers are reviewing data from Sikes' Prius but have so far not been able to find anything to explain the reported incident. Inspectors in California tried during a two-hour test drive to duplicate the acceleration, but were unable to do so.
Kurt Bardella, a spokesman for Rep. Darrell Issa, R-Calif., said the failure to duplicate the stuck accelerator, along with a vehicle design to prevent such occurrences, raises questions about the driver's story.
"We're not saying Mr. Sikes is wrong or that he lied, we're saying that questions have arisen in the investigation," Bardella said.
Toyota Motor Corp. planned to announce preliminary findings of its investigation at a news conference Monday in San Diego.
NHTSA is looking into claims from more than 60 Toyota owners that their vehicles continue to accelerate unexpectedly despite having their vehicles repaired.
Technicians with the NHTSA and Toyota could not duplicate what Sikes said he experienced March 8 on a mountainous but lightly traveled stretch of Interstate 8 east of San Diego, according to a congressional staffer's memo prepared for the House Committee on Oversight and Government Reform.
"Every time the technician placed the gas pedal to the floor and the brake pedal to the floor the engine shut off and the car immediately started to slow down," the memo read.
According to the memo, a Toyota official who was at the two-day inspection last week in suburban San Diego explained that an electric motor would "completely seize" if a system to shut off the gas when the brake is pressed fails, and there was no evidence to support that happened.
"In this case, knowing that we are able to push the car around the shop, it does not appear to be feasibly possible, both electronically and mechanically that his gas pedal was stuck to the floor and he was slamming on the brake at the same time," according to the memo.
Toyota has recalled millions of cars because of floor mats that can snag gas pedals or accelerators that can sometimes stick. Sikes' car was covered by the floor mat recall but not the one for sticky accelerators. He later told reporters that he tried to pull on the gas pedal during his harrowing ride, but it didn't "move at all."
The Prius is powered by two electric motor-generators and a small gasoline engine, all connected by transmission gears. A computer, which Toyota calls the "hybrid control computer" determines what combination of motors is needed and which would be most efficient.
Craig Hoff, a professor of mechanical engineering at Kettering University in Flint, Mich., said that for the Prius to accelerate out of control, at least two systems would have to fail simultaneously. They are the sensor signal that tracks the brake and gas pedal positions when the driver presses on them and the hybrid control computers.
"The chance of them both going wrong, plus the fact that the signal is bad, it just seems very, very, very remote," Hoff said. "Could it happen? Statistically, yes. But it just doesn't seem very likely."
Several events usually combine to cause problems with cars, and it's difficult to reproduce them, Hoff said.
"It's going to make it really hard to find, because you've got to line up the multiple effects," he said.
The congressional memo said both the front and rear brakes were worn and damaged by heat, consistent with Sikes saying that he stood on the brake pedal with both feet and was unable to stop the car. But if the fail-safe system worked properly, the brakes wouldn't have been damaged because power would have been cut to the wheels.
Gomez said the best evidence that his client was frantically slamming the brakes is that a California Highway Patrol officer who was giving Sikes instructions over a loudspeaker smelled burning brakes and saw the lights on.
The Associated Press contributed to this report.