Elon Musk's The Boring Company unveils idea for underground roads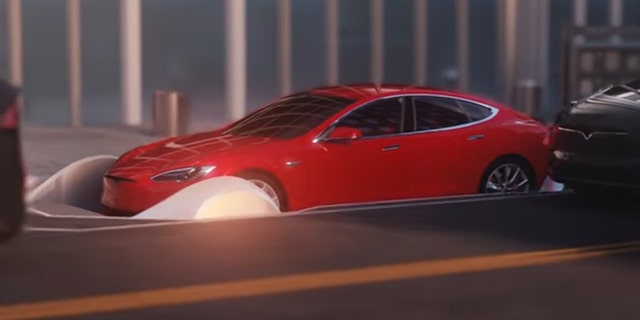 NEWYou can now listen to Fox News articles!
Elon Musk's new venture, The Boring Company, has unveiled its vision for a network of automobile tunnels under the city of Los Angeles in a computer animation.
The system involves elevators that bring the car down from surface streets on a platform that's equipped with maglev technology.
Once underground, the platform links into a network and autonomously rockets the car through one of many layers of tunnels at speeds of up to 124 mph seamlessly integrating it into traffic like a data packet in a broadband communications system, according to TechCrunch.
Along with many Tesla vehicles, the video includes a glass-enclosed minibus that uses the system, with riders seen both standing and unbelted onboard. Musk has previously said that Tesla plans to introduce an autonomous minibus in the near future, and this could be a first glimpse at what it might look like.
But while The Boring Company is testing a boring machine and plans to dig a tunnel on the campus of Musk's other company, SpaceX, he says he only spends about two to three percent of his time on the new venture, so the extensive infrastructure isn't coming anytime soon.
Musk also used the event to tease Tesla's upcoming electric semi-truck, which will be fully revealed this September ahead of a planned on sale date in 2019.