Drones to the rescue? Ford issues software challenge at CES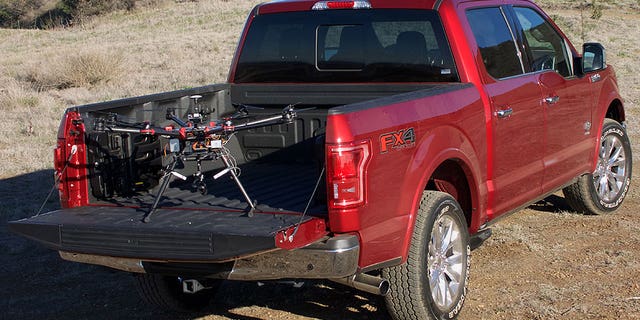 Next time an earthquake cripples a city or a hurricane batters an island, drones deployed to emergency zones may relay real-time information to rescuers via software in their Ford trucks. At least that's the hope of the automaker, which detailed a challenge to developers Tuesday at CES in Las Vegas, pushing them to create drone-to-car software capable of assisting in emergency zones. Ford said it is partnering with DJI, a leading drone manufacturer, to pursue the technology. Together, the two companies are offering a $100,000 prize to entice software developers.

Ford envisions the technology working via its third-generation SYNC connectivity system being integrated into cars throughout its lineup. From the air, drones could quickly survey damaged areas and the information would be relayed to the vehicle.

"We need to find a way for the drone to communicate in real time, to locate the truck and dock itself in the bed, even if the truck has moved to a new surveillance area," CEO Mark Fields said. Future applications for such a system could include agriculture, forestry, construction, and bridge inspection, according to Ford.
The project marries automotive technology and the proliferation of drones, two of the biggest themes at this year's CES. At least 115 automotive companies are showcasing their latest technology, an increase of 25 percent over last year. Economists from the Consumer Technology Association, which runs the show, project that drone sales will top 2.8 million in the United States this year, a 149 percent increase over last year's numbers.

The drone-to-vehicle communication project is just one of several announced by Ford on Tuesday. The automaker, eager to stretch its portfolio beyond automotive offerings into mobility solutions, also detailed a partnership with Amazon that will link cars and smart homes, announced the expansion of its autonomous testing program and said it would fund 12 transportation-related startups with $120,000 each.
----------
More from Autoblog:
Ford announces big partnership at CES with Amazon
BMW brings laser headlights and HUD helmet to motorcycles
The most fuel-efficient automakers in America
----------
Ford F-150's little engine that could