'Dodge' Viper Returning to Detroit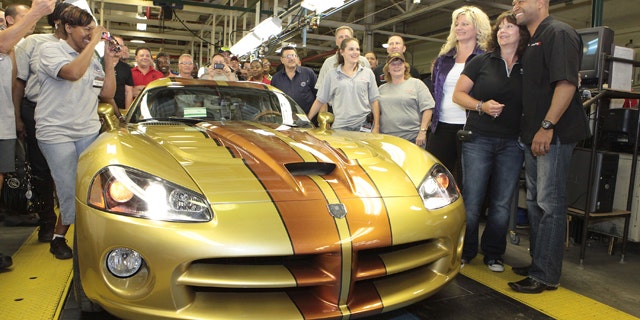 Someone at General Motors may want to call St. Patrick, because Detroit is about to be overrun by snakes.
Chrysler has confirmed that the next generation Viper will be built at the car's traditional home, the Conner Avenue Assembly Plant. The factory was shut down in July 2010 when the model went on hiatus. By reopening it, 150 new jobs will be created.
During its 15 year production run, 20,070 of the Corvette killers were turned out by the specialty facility. The last one was a custom bronzed gold coupe with copper racing stripes built for D'Ann Rauh and her husband Wayne, owners of largest private collection of Vipers in the world, over 40 of them.
Read: Ford Unleashes a 200 MPH Mustang
The next generation car is set to enter production in late 2012 and apparently be marketed under the newly-formed SRT brand this time around, rather than Dodge.
In July, SRT President and CEO Ralph Gilles told FoxNews.com that "the Viper is one of those products that is pretty much an SRT product from scratch," adding that "it will have an umbilical cord back to Dodge, because that's kind of where its roots are, but predominantly we positioned it as an SRT."
Details on the highly-secret car are scarce, but it is expected to retain its signature V10 engine – still sold as a racing motor with the Viper name on the headers – and rear-drive layout, along with a traditional manual transmission.
Although Gilles promises the new Viper will be true to the car's reputation for delivering raw performance, it may also offer such modern enhancements including traction control, cruise control and (gasp!) cupholders, in an effort to appeal to a wider audience.
Click here to watch a full interview with Ralph Gilles on Fox Car Report