Dodge revisits golden age of muscle cars with 2017 Challenger T/A, Charger Daytona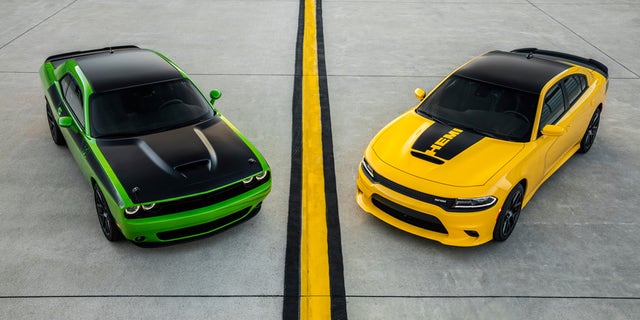 Dodge is reviving two legendary names from the golden age of muscle cars at the 2016 Woodward Dream Cruise in Detroit.
The 2017 Dodge Challenger T/A and Charger Daytona both borrow names from classic Challenger and Charger models of the late 1960s and early '70s. The original T/A and Daytona were both performance models built for racing, but the new versions are a bit less extreme, with milder performance upgrades and some cosmetic changes inspired by the classics.
When Dodge first used the T/A and Daytona names, many race series still required manufacturers to sell a certain number of production models before any car could be certified for competition. The original T/A was built to homologate the Challenger for the SCCA Trans Am (that's what "T/A" stands for), and it raced against rivals like the Ford Mustang Boss 302 and Chevrolet Camaro Z28. The original Charger Daytona featured a radical nosecone and massive rear spoiler, both of which gave it an aerodynamic advantage on the NASCAR tracks it was built to race on.
Related: Dodge launches special editions to mark the end of the Viper
The 2017 Charger Daytona doesn't have a massive rear spoiler, but it does have retro graphics and a few performance upgrades, including a cold-air intake, upgraded brakes, and a performance exhaust system. Both the Daytona and T/A are available with a 5.7-liter HEMI V8 engine that produces 375 horsepower and 410 pound-feet of torque, or a 6.4-liter HEMI good for 485 hp and 475 lb-ft. The top dog in both the Charger and Challenger lineups remains the 707hp, 6.2-liter supercharged V8 SRT Hellcat.
The Challenger T/A follows the same pattern as the Daytona, with some performance upgrades, including sportier suspension and performance exhaust, and a heavy dose of nostalgia. With its satin black hood and period graphics, the 2017 Challenger T/A is a spitting image of the 1970 original. The new model also gets the trick air-intake system from the Hellcat, which draws air into the engine through an opening in one of the headlights.
Dodge will begin taking orders for the 2017 Charger Daytona in September, followed by the 2017 Challenger T/A in October. The Daytona starts at $40,985 with the 5.7-liter V8 engine, or $46,090 with the 6.4-liter V8. The T/A will be offered in three trim levels: base and upscale T/A Plus models, both with the 5.7-liter engine, start at $38,485 and $41,235, respectively, while the 6.4-liter version starts at $45,090. All prices include destination.