Dale Jr. and Jimmie Johnson the new Batman and Superman?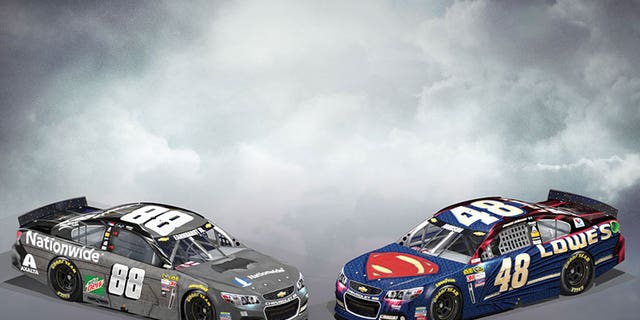 The Batmobile never looked so normal.
Hendrick Motorsports teammates Dale Earnhardt, Jr. and Jimmie Johnson will be having a #HeroFaceOff at the NASCAR Auto Club 400 in March, when they take the green flag in stock cars painted to promote the upcoming "Batman vs. Superman" film.
Dale Jr. will be playing the role of the cape crusader, while six-time champ Jimmie Johnson's "Superman" nickname will finally come full circle. They'll also be wearing specially-designed fire suits that haven't yet been revealed, so no telling if they have built-in six-packs…of the abdominal variety.
Unfortunately, although Wonder Woman also has a major role in the film, since Danica Patrick drives for a different team, it's unlikely that she'll be driving an invisible car in the race, as cool as that might be.
Then again, she has looked like a superhero before.