Dale Earnhardt Jr. still stands by his banana and mayonnaise sandwich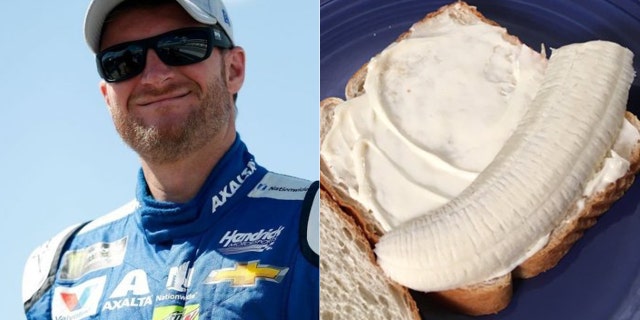 NASCAR star Dale Earnhardt Jr. blew America's collective culinary mind a couple of years ago when he professed his love for banana and mayonnaise sandwiches.
In a tweet promoting sponsor Hellmann's Mayonnaise that showed a photo of the snack, Earnhardt wrote "Making my favorite sandwich. I swear it's delicious."
While many people took to Twitter to register their disgust with his creation, a few from his home state of North Carolina suggested that it was in fact a local favorite.
Some others gave it a shot and liked it.
The controversy has continued to this day, and was brought up this week during the "Uncomfortable Questions" segment on "NASCAR America."
During the roundtable discussion, host Rutledge Wood asked NBC Sports color commentator Steve Letarte if Earnhardt's sandwich sounded any good to him, to which he replied, "Absolutely not."
Wood then turned to Earnhardt, now a NASCAR analyst for the network, and asked him if he'd dip a banana in mayonnaise and eat it.
"Heck no, that would be awful," Earnhardt said. But then he switched to defense and tried to explain why the sandwich is different.
"You spread it on there like butter, like not a lot, just a little," he told Wood.
"You don't have to put a bunch of mayonnaise on it. Just go easy."
Earnhardt has previously suggested adding peanut butter as an option, but here's how to make the classic version:
The Official Dale Jr. Hellmann's Mayo and Banana Sandwich Recipe:

Prep Time: 2 minutes
Ingredients:
- One loaf of white bread
- One jar of Hellmann's Real Mayonnaise
- One bunch of bananas
Directions:
1. Start with two slices of bread.
2. Spread a generous portion of Hellmann's Mayo onto two slices of bread.
3. Peel bananas and cut in half, length wise.
4. Lay banana slices on bread (tip: DEJ prefers three slices), topping with the other slice of bread.
5. Enjoy!