'Counterfeit' tires pose consumer risk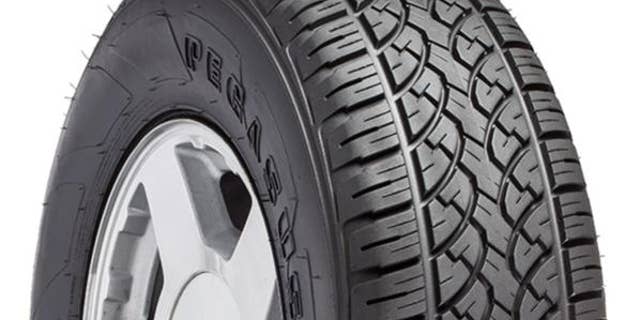 What began as a routine tire test became a journey through a maze of deception, finger-pointing, and a lack of accountability that in itself could prove dangerous if the product should prove to be defective.
When it comes to safety and performance, Consumer Reports has long said that you shouldn't skimp on tires. That's what we discovered once again when we recently tested three sets of Chinese-branded all-season truck tires that cost as little as $89 apiece in our test size, 265/70R17. All three of these bargain-bin tires landed at the bottom of our Ratings, in part because of their performance in our winter-condition test, as well as so-so to poor tread life. The surprise came when the owner and distributor of one set of the tires alleged that the tires we tested were "gray market"—that is, produced or sold by a factory and vendor that were not authorized to make or distribute them—and from tire molds that may have been stolen.
We've heard of fake Louis Vuitton handbags, Rolex watches, and "vintage" Bordeaux wines. But this was different.
Is it possible that a tire factory could hijack another company's brand and import "unauthorized" tires under the noses of U.S. customs and safety officials, and then sell them through legitimate retail channels on the open market? And what happens to the consumer when the owner of the brand name and the tire retailer walk away from any responsibility for the suspect tire?
More From Consumer Reports
The Odyssey began when Consumer Reports tested the $95 Chinese-made Pegasus Advanta SUV tire and found its performance in winter conditions, specifically snow traction and ice braking, was poor.
After publishing our Ratings, we were contacted by representatives of the Scottsdale, Ariz.,-based American Pacific Industries, owner of the Pegasus brand in the United States. It said Consumer Reports' results were far below API's internal test results when it came to snow traction.
As is typical in such instances, API asked about our testing methodology, which it thought might explain the discrepancy in the results. API also asked for the date codes on the tires we had purchased—the tire information number found on all car tires that identifies the plant and date of production.
That conversation led to others, culminating in API's claim that the tires we tested were not manufactured or distributed by authorized parties. Based on the date codes on the tires, API officials claimed there was no way that the tires were legitimate Pegasus Advanta SUV tires—as the factory that produced them was no longer a Pegasus-authorized factory at that period in time. Moreover, API claimed it doesn't know for certain who made the suspect tires, or what types of materials or processes went into making that batch of tires.
According to a letter sent by Barry Littrell, API's chief operating officer:
"The Pegasus Advanta SUV tires you tested … were not produced by any authorized vendor to American Pacific Industries; who owns the trademark 'Pegasus Advanta SUV' and the hardware used to produce those tires."
All tires are required by federal law to have date codes stamped in the sidewall. The codes on Consumer Report's tested tires, E3 3512, 3612, and 5012, indicate that the tires were built at the Yellow Sea tire factory in Qingdao, Shandong, China, in August and December 2012, according to API. But Littrell stated that API made no such manufacturing run:
"American Pacific Industries' relationship with this factory ended in 2011 [and] our records indicate the last shipment of these tires in the SUV pattern was in December of 2011."
Littrell's letter also stated that the factory was destroyed after API's contract ended:
"Many of our molds went missing at that time. We have no idea who may have made these tires nor what they put in them."
How is that possible? Who could have made those tires, and placed legitimate-looking date and plant codes on them? How could Consumer Reports—or any consumer, for that matter—know the difference?
If the tire molds were in fact stolen, the unauthorized manufacturer could have used different materials, which could account for a difference in tire performance, reliability, and safety.
When it comes to safety, "the composition of the tire is really more important than the mold," said Clarence Ditlow, executive director of the Center for Auto Safety, a longtime car safety advocate and former member of Consumer Reports' board of directors. He said that such tires would be "a safety concern if for no other reason than that you couldn't do a recall on them."
Consumer Reports bought all 10 of the tested Pegasus Advanta SUV tires online at Tires-easy.com—an online retail tire outlet that specializes in low-priced tires.
In an interview, George Bohorquez, president of Tires-easy.com, said: "If we had counterfeit tires, that would be news to me. We would categorize these as defective tires, [and] an ideal recourse is to do a recall under those situations."
In the event of a recall, Bohorquez said, Tires-easy.com has the ability to contact all the customers who bought Pegasus Advanta SUV tires from them with the suspect date codes. But recalls ultimately are the responsibility of the manufacturer, not a retailer such as Tires-easy. That put the ball back in API's court.
When we contacted API again, a company official—who asked not to be identified—said it would handle any consumer complaints on a case-by-case basis.
"If a consumer calls API and has Pegasus Advanta SUV tires, we would tell them whether we did or did not make it," the API official said. "If we did not make the tire, our warranty would not apply. You need to talk to the retailer you bought it from." Meanwhile, API has ceased using the Pegasus name and has begun selling tires under the Advanta brand name instead.
The National Highway Traffic Safety Administration regulates tires and automotive safety and has the authority to initiate recalls, as it did with millions of Firestone tires on Ford Explorer SUVs in 2000. But counterfeiting is another matter.
No consumers have reported complaints to NHTSA about the Pegasus Advanta SUV tire, nor do we have any information that indicates that this tire presents an immediate safety risk. NHTSA's database of complaints does include one regarding the similarly named Pegasus Advanta CLT, but that's a different tire made for heavier trucks.
In response to our inquiry about the unauthorized Pegasus tires, NHTSA sent the following statement.
"NHTSA works closely with our federal partners to investigate counterfeit tires that have a potential safety defect and do not meet federal safety standards. Our advice to consumers is to use caution when purchasing auto parts on the Internet that are shipped from other countries or sold at very low prices. We also urge anyone with information about a potential safety issue involving any tire to report it to NHTSA."
The NHTSA statement also said that "NHTSA doesn't have purview over enforcement of intellectual property rights, patents, or trademarks." NHTSA referred us to the U.S. Customs and Border Protection, Department of Homeland Security, and the Federal Bureau of Investigation.
Shopping for replacement tires? Check our tire buying advice and ratings.
Until there is an actual safety complaint, NHTSA won't order a recall of the tires—even if the owner claims they are counterfeit or otherwise unauthorized. And if there were a recall, who would be responsible if the tires are in fact counterfeit?
After calling the FBI, CBP, and DHS, as well as the U.S. Patent and Trademark Office, and the office of the U.S. Trade Representative, we were eventually directed to Immigration and Customs Enforcement—which seems to have actual authority over counterfeit imports, including car parts.
In an interview, Bruce Foucart, acting director of the Intellectual Property Rights Coordination Center at ICE told us: "If API is the trademark holder and they didn't make them, this is likely an example of a counterfeit. If these tires are still being made, and they are still being smuggled, we would investigate and try to mount an interdiction and seize the tires. We would work with our Customs and Border Protection partners to seize future imports at the port. We would bring evidence to prosecutors at the Department of Justice or to a local District Attorney, and there could be criminal charges. The U.S. Attorney would be the one to decide whether to bring [federal] criminal charges."
Short of criminal charges, violators would have their products seized and could face fines for customs violations.
He encouraged API to contact the IPR Center directly.
So the ball is back in API's court. The API official we spoke with says the company has spoken with government officials and has "active litigation pending" in China against the company that it believes produced the tires.
What if you, like us, bought a set of these tires and are driving around on them now? To identify when your tires were made refer to the last four digits of the tire information number on your tire's sidewall. (Read: "How to decode tire size and other data.")

Tires with final digits of 12 or higher indicate they were tires that API says that they did not produce.
Since we bought our tires from Tires-easy, they were our primary contact. Bohorquez responded stating that he had followed up with API and concluded: "After discussion with Barry Littrell at API Inc., I now understand that no one has identified a safety concern on these tires. And as such, Barry has advised that there is no need to have the tires returned as there is no safety issue."
Bohorquez added that he had not purchased the tires directly through API. Rather he had bought them through a third-party importer, Economy Tire, of Dallas.
We called Economy Tire, and spoke to a sales manager, Noah Salem, who told us the company bought a single container of 400 to 500 tires, and that the company no longer stocks the Pegasus brand.
NHTSA rules establish that in the case of foreign-made cars and car parts, the importer is responsible for notifying customers and providing a remedy for consumers in case of a product defect. We repeatedly tried to follow up with Economy Tire, to ask if it was the importer of record on these tires, and whether it purchased the tires in the United States or before they entered the country. We were continually told that Salem was out of the office. He did not return our calls.
"How is anybody supposed to know the difference?" Bohorquez said. "How am I supposed to know if they're not authorized tires? We're buying tires on the open market like anyone, and it can be difficult for a wholesaler or a retailer to know if a tire is made by API or not."
Even though the tires have its brand name embossed on them, API has denied any responsibility for tires it says it did not produce.
The dilemma is a little like if you buy a fake Cartier bracelet from some guy on the sidewalk, and then try to exchange it at a legitimate Cartier retailer. Except in this case, a legitimate retailer sold the counterfeit tire. And no one seems willing to take responsibility for the tires.
The ultimate lesson is that, when buying tires with prices that seem too good to be true, be concerned. The company whose name is on the sidewall may not stand behind the product if you encounter a problem, even when you purchased it legitimately.
Even if the tire isn't defective and isn't a counterfeit, the tiny distribution network can be a problem by itself. If a small company imports and sells a single container of tires to the United States, and you get a flat and need a replacement, you may not be able to find a matching one. Some other Chinese tire models didn't even make it into our Ratings because we could not find enough samples of the same size to test.
If you own Pegasus Advanta SUV tires, we recommend you pay particularly close attention to tire maintenance, as you should with any tire. Routinely monitor tire pressures and inspect them regularly—at least once a month—for any abnormal appearance, such as cracking, bulging, blistering, rippling in the sidewall, abnormal treadwear patterns, or any unusual sounds or vibration while driving.
If you encounter any of these situations, contact the tire retailer you bought them from and file a safety complaint with NHTSA at its website.
And if you believe you have counterfeit tires, and they have a date code that ends in the number 12 or higher, share your concerns with your retailer. And file a complaint with the IPR Center. Be aware that as part of a criminal investigation through the IPR center, counterfeit tires could be seized as evidence.
In any case, you will want to have the tires replaced as soon as you can, even if no one else covers the cost.
—Eric Evarts
Copyright © 2005-2014 Consumers Union of U.S., Inc. No reproduction, in whole or in part, without written permission. Consumer Reports has no relationship with any advertisers on this site.