Comedian Mark Curry's 1995 Ford Bronco got busted by a tree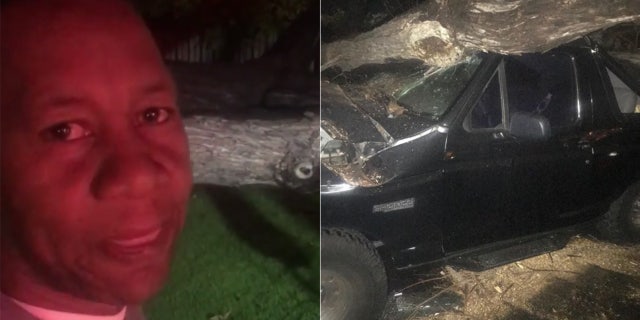 "Hangin' With Mr. Cooper" star Mark Curry picked the wrong Los Angeles neighborhood to hang out in on Wednesday night, when high winds knocked over a tree and crushed his classic Ford Bronco.
Fortunately, the 56-year-old comedian wasn't in it, but he posted videos to his Instagram of firemen responding to the incident and using a circular saw to cut through the tree and the truck itself.
Curry wrote that he's got to "laff it off" and "RIP 1995- 2018."
The good news for him is that Ford has an all-new Bronco coming in a year or so, so he won't have to wait too long to replace it with a new one if he wants to.
Ford released the first teaser image last week, which shows a sheet draped over a very boxy vehicle that promises an old school style hearkening back to the 1966 original, rather than Curry's full-size model, which is the same as another famous Bronco from L.A.