Claims about flood-damaged cars aren't true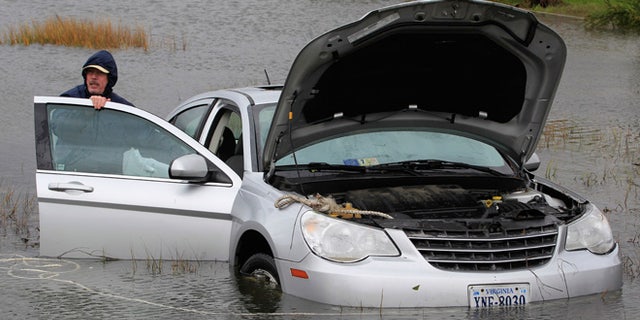 DETROIT – In the days since Superstorm Sandy, an alarming prediction has flashed across the Internet: Hundreds of thousands of flood-damaged vehicles will inundate the nation's used-car market, and buyers might not be told which cars have been marred.
Not true, according to insurance-claims data reviewed by The Associated Press. The actual number of affected vehicles is far smaller, and some of those cars will be repaired and kept by their owners. The dire predictions are being spread by a company that sells vehicle title and repair histories and by the largest group representing American car dealers.
They claim the number of cars damaged by Sandy could be larger than when Hurricane Katrina hit the Gulf Coast in 2005 and marred more than 600,000 vehicles. But an AP analysis of claims data supplied by major insurance companies shows the number of cars reported damaged so far is a fraction of that.
The companies — State Farm, Progressive, New Jersey Manufacturers, Nationwide and USAA — have received about 38,000 car-damage claims.
"It's not anything near what we're talking about in the Katrina situation," said James Appleton, president of the New Jersey Coalition of Automotive Retailers, a statewide association of more than 500 dealers.
Frank Scafidi, a spokesman for the National Insurance Crime Bureau, an insurance company group that monitors fraud and other trends, concurred, saying insurers watched by his group are logging far fewer claims than they did with Katrina.
Read: What to do if your car gets flooded
"It doesn't translate to there's going to be 2, 3, 400,000 cars out of this thing just because this is such a huge geographic storm," Scafidi said.
Other large insurers, such as Farmers, Allstate, Geico and Liberty Mutual, either did not return calls or declined to release claims information.
Because many communities are still cleaning up from the superstorm, more claims are bound to come in. But the total is not likely to grow significantly. Ten days after Sandy, the rate of claim submissions is already starting to slow. And many of those cars will have relatively minor damage unrelated to water, meaning they can be fixed and returned to their owners.
About 14,000 new cars were also damaged by Sandy while they sat on docks in the New York area awaiting shipment to dealers. But most of those vehicles won't end up on sales lots. Automakers will have severely damaged cars crushed because they don't want their brand name hurt by substandard vehicles circulating in the marketplace.
To be sure, flood-damaged cars can be a serious problem. Once a vehicle is dried out, the damage may not be immediately apparent, so the car can often be sold to an unsuspecting buyer.
Beneath the surface, the water can damage computers that control everything from the gas pedal to the entertainment system. Saltwater, like that from Sandy's storm surge, is especially harmful, causing corrosion in electrical and mechanical parts that can pose problems for years.
Companies like Carfax, a Centreville, Va., provider of vehicle-history reports, stand to benefit if more buyers are worried about the risk of purchasing a flooded car. The company charges $39.99 for a single report, although it also contracts with dealers and manufacturers, so many reports cost less. About 170 million reports are viewed each year.
Carfax, a privately held subsidiary of the R.L. Polk & Co. automotive data firm, put out a news release Tuesday speculating that Sandy's toll on cars would exceed the damage left by Katrina.
In an interview, company spokesman Larry Gamache said early indications were that more vehicles could have been damaged in the densely populated Northeast than were damaged by Katrina in 2005 along the more sparsely populated Gulf Coast. He estimated that half of them, more than 300,000, would find their way back onto the market as used cars.
"I think it's partly due to the breadth of the storm and the intensity of the storm and where the storm hit," Gamache said.
A spokeswoman for Experian, which runs a Carfax competitor called AutoCheck, said the area that got blasted by Sandy has 9 million registered cars, far more than in the Gulf region struck by Katrina.
On Wednesday, the National Automobile Dealers Association put out a statement estimating that 200,000 or more flooded cars could be resold as used.
The trade organization warned that the storm could crimp the supply of clean used cars, potentially driving up prices. But its estimate was based on reports from third parties that showed 600,000 cars were damaged in Katrina and that Sandy would cause about one-third of the dollar damage from Katrina.
"There was not an incredible amount of science behind it," conceded Jonathan Banks, executive automotive analyst with the NADA Used Car Guide.
Katrina overwhelmed low-lying areas of the Gulf Coast, including New Orleans, which is below sea level, causing widespread flooding. Many people in Katrina's path didn't evacuate, and car dealers didn't have many options to protect inventories.
In hard-hit New Jersey, flooding from Sandy was mainly confined to a strip along the coast from Atlantic City to New York, and most people evacuated those areas, Appleton said.
In the western part of the state, "unless a tree fell on your car, your car wasn't even at risk," he said.
Chris Basso, another Carfax spokesman, said the company relied on an estimate from a trusted industry source in putting out its news release. He said it was just an estimate, and the final number won't be known for a while.
"All we're trying to do is make sure people are looking out for these cars," he said. "Because eventually they're going to make their way back onto the road."
Regardless of the predictions, thousands of flood-damaged cars will certainly be resold, and buyers need to be cautious.
Unlike the automakers who destroy badly damaged inventory, dealers, insurance companies and others often resell flooded cars to recoup their losses.
If the cars were declared total losses by insurance companies, states require them to get new titles branding them as flood-damaged vehicles. But some sellers don't disclose that, and some even move the cars from state to state to wash the branding off the titles.
So even if the numbers are far smaller than the estimates, anyone buying a used car in the coming months should check the title and repair history and have the car inspected by a mechanic. Buyers can also do their own inspection, sniffing for musty odors and checking for mud and debris under the dashboard.
"People just have to be a little smart about this," said Scafidi, of the insurance company group. But he added, "We don't want to sit here and say the sky is falling."
___
Seven tips for avoiding a flood-damaged car:
— Run the car's vehicle identification number through Carfax at www.carfax.com, AutoCheck at www.autocheck.com, or VinCheck at www.nicb.org/theft_and_fraud_awareness/vincheck. The services can usually tell you if a car's been damaged or if it's been totaled by an insurance company.
— Have the car inspected by a mechanic, who can put it on a lift and check the undercarriage for water damage or debris from flood waters.
— Check the interior yourself for signs of water damage. Sniff for a musty smell. Look for signs of freshly shampooed carpet. Check under the floorboard carpet for water residue, rust, or water stain marks. Look under the dashboard for dried mud or other flood residue. Check for rust on screws in the console and other areas where water wouldn't normally be present.
— Check the trunk for moldy smells, water stains, rust or debris.
— Look under the hood for mud or grit in the alternator, behind wires and around small openings in starter motors and power steering pumps.
— Follow wires to check for signs of rust, water residue or corrosion.
— Check the undercarriage for evidence of rust or flaking metal that wouldn't normally be on newer vehicles.