China begins tests of giant elevated bus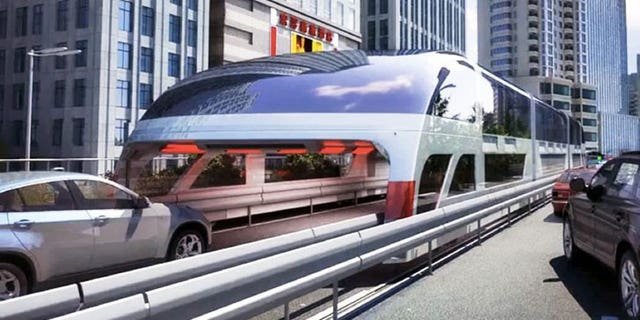 Look up in the sky! It's a…bus?
China has road tested its new Transit Elevated Bus (TEB-1): a street-straddling people carrier that allows traffic to flow under it.
Really more of a 25-foot-wide trolley on stilts, the TEB-1 rides on rails on the sides of a two-lane road. The 72-foot-long vehicle is equipped with its own traffic lights and can carry up to 300 passengers between raised stations. It was designed so that four can be linked together and travel at speeds of up to 37 mph.
The test took place in the city of Qinhuangdao less than three months after computer renderings of the idea where first revealed. Its creators say that it could reduce traffic congestion by 35 percent.
There's no word on when it will go into official operation, but the Xinhua news agency reports that along with cities in China, there is interest in the technology from Brazil, France, India and Indonesia.