Chevy tries a federal agent look with the Tahoe Midnight Edition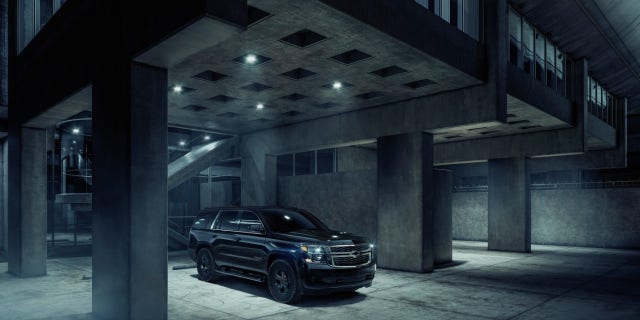 NEWYou can now listen to Fox News articles!
Calling all Secret Service wannabes and crime show watchers, Chevrolet has an all-black, tinted-out truck that looks like it might gain access to a federal building. Don't try that after leaving a Chevy dealer, though. The 2018 Tahoe Custom Midnight is just a very dark SUV for average civilians.
Unlike other Black and Midnight editions -- of which there are dozens from different automakers over the years -- the Custom Midnight rides on smaller 18-inch wheels instead of oversize rims. It's this specific detail, painted black and mounted on thick, knobby Goodyear tires, that gives this Tahoe a rugged, police-like appearance.
These wheels, along with the black Chevy bow tie logo and black mirrors, are similar to the real police version of the Tahoe that General Motors sells strictly to law enforcement. It's nearly as rugged, too, with a 5.3-liter V-8 good for 355 horsepower, a 6600-pound tow rating, and a whopping 112 cubic feet of cargo space (the third row isn't available on this trim).
Plenty of automakers hop on the all-black-everything trend, even on cars that aren't at all sinister. The Nissan Rogue has a Midnight Edition, as does the Subaru Forester and BMW M2. Dodge offers a Blacktop version of the Durango SUV, which only darkens some of the parts instead of the entire vehicle. That kind of option package is becoming a common feature among sports cars as much as family sedans.
The Tahoe Custom Midnight is available for $47,290 with destination, which makes it one of Chevy's cheapest full-size SUVs. It's based on the starting LS trim, so don't expect any over-the-top luxuries at that price. Interesting as the Custom Midnight appears, we'll leave the genuine black Tahoes to the G-men.