Chevy Offering Volt Owners Loaner Cars Until Fire Investigation is Resolved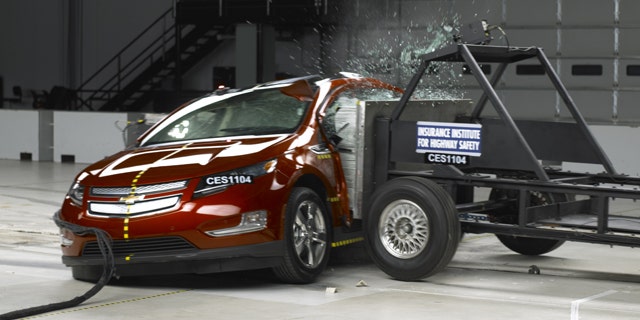 If the recent reports of fires caused by government crash testing have you worried about getting into your Chevrolet Volt, the folks at General Motors have the answer: we'll loan you a regular car.
The automaker announced today that it will contact every customer that has purchased one of the plug-in hybrid vehicles and offer to give them a replacement GM vehicle of their choice until an investigation into the fires is resolved, although it maintains that the Volt is safe when handled properly.
During a conference call with reporters, GM North America President Mark Reuss said "our customers' peace of mind is too important to us for there to be any concern or any worry. This technology should inspire confidence and pride, not raise any concern or doubt."
The issue was raised after the battery pack in a Volt that was subjected to a National Highway Traffic Safety Administration (NHTSA) side-impact test caught fire three weeks later while the car was sitting in a government parking lot. Three additional tests that were carried out last week led to a second pack catching fire and another emitting smoke and sparks which prompted the agency to open a broader investigation into the potential fire risks posed by the new generation of electric cars.
Click here for a full review of the 2012 Chevrolet Volt from FoxNews.com
In response to the first fire, General Motors argued that if NHTSA had followed the automakers' recommended post-crash procedures, which involve draining the battery pack's cooling fluid, the incident could have been avoided. The automaker now says it is "working with NHTSA so we all have an understanding about these risks and how they can be avoided in the future," adding that it will "implement any necessary changes as soon as possible."
A GM representative tells FoxNews.com that while the automaker knows of several Volts that were involved in real-world accidents, none have led to the battery pack or its associated components catching fire. Chevrolet has sold 5,003 Volts through October of this year. The company is hoping to deliver 10,000 vehicles the end of 2011 and as many as 60,000 worldwide in 2012.
The compact car has received top safety ratings from both NHTSA and the Insurance Institute for Highway Safety (IIHS). Spokes person for the IIHS tells FoxNews.com that the organization witnessed no problems with the Volt's battery pack during its tests and is not planning to conduct further tests as a result of the NHTSA investigation.
Volt owners may want to think twice about taking General Motors up on the offer, however, as over 250,000 conventional vehicles catch fire each year, according to the National Fire Protection Association.
Click here for more from FoxNews.com Autos