Chevrolet Colorado named Motor Trend Truck of the Year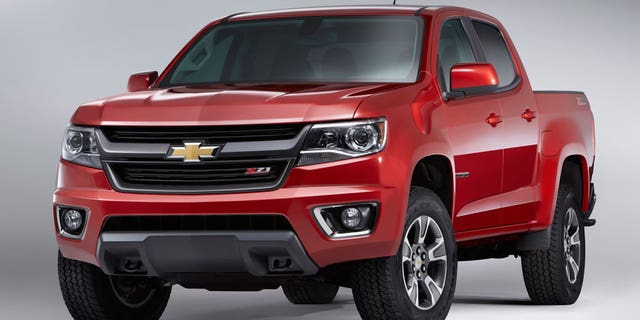 It's the pickup version of David vs. Goliath.
Motor Trend has named the Chevrolet Colorado Truck of The Year for 2015, choosing the small pickup over the aluminum Ford F-150 and six other contenders by a unanimous vote.
The magazine praised the refinement, capability, fuel economy and overall value of the $20,995 Colorado, calling it the "perfect-size truck."
The all-new version of the perennial top-selling F-150 finished third in the voting behind the Ford Transit full-size van, which the editors found surprisingly fun to drive despite its enormous cargo carrying capability. The F-150 lost points due to its disappointing real world fuel economy and ride quality, but scored high marks for its power and innovative features.
Chevy took a chance by reentering the small pickup segment this year, which has been abandoned by Ford and Chrysler in the U.S. in favor of more fuel efficient full-size trucks and vans. The oft-cited Motor Trend accolade is the second big marketing coup for Chevy in recent weeks, after a company representative's bumbled presentation of a Colorado to World Series MVP Madison Baumgarner became an internet sensation and launched the #TechnologyAndStuff hashtag that was quickly embraced by Chevrolet.