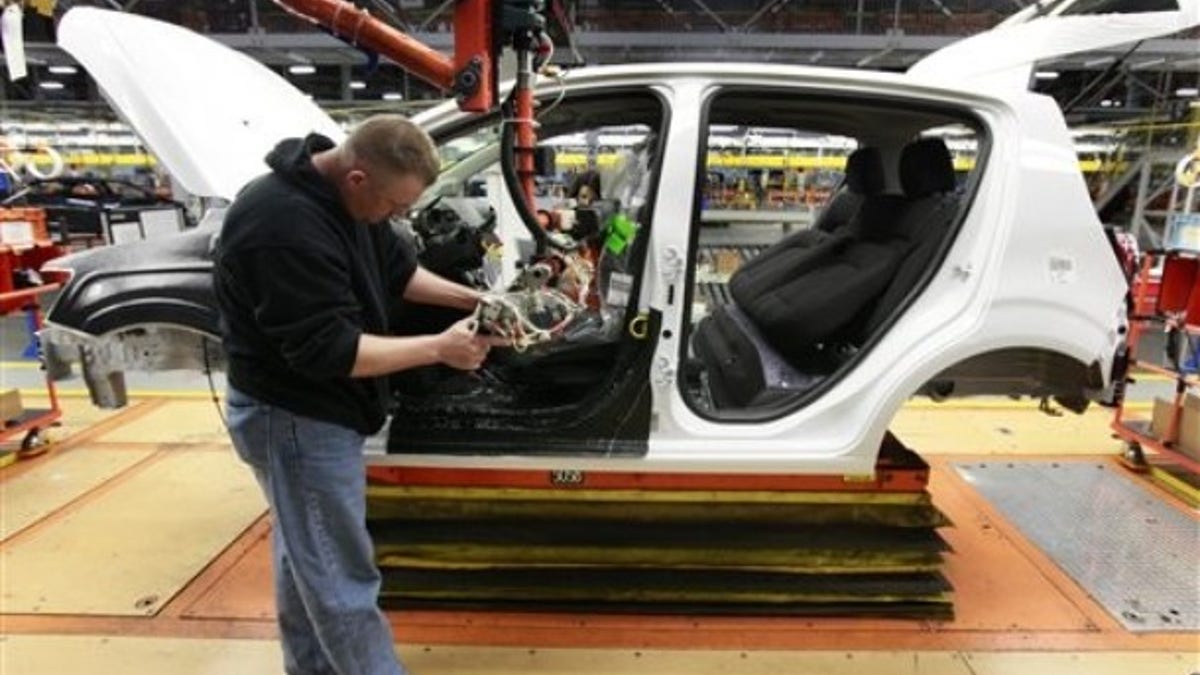 DETROIT – The potential shortage of a key component used to make fuel lines and brake lines could force automakers in the U.S. and around the world to close car and truck plants as they run short of parts.
Auto industry executives have scheduled an unprecedented meeting on Tuesday in suburban Detroit to talk about the problem. Officials from as many as 10 automakers and dozens of parts supply companies are set to attend.
A March 31 explosion at Evonik Industries in western Germany killed two workers and damaged a factory that makes CDT. That chemical is a key component in a nylon resin called PA12, which is used to make a specialized plastic. The plastic is used in auto fuel lines and brake lines. It is also a component in solar cells, pipelines, sporting goods and household items.
Any auto plant closures that might result from the shortage would come at a crucial time for the industry. U.S. sales are the highest they have been in recent years as the industry recovers from the recession. March was the best month for the industry in nearly five years.
Automakers aren't pushing the panic button yet, but they are concerned.
General Motors Co. said Monday that some of its parts suppliers are affected, and GM has set up a global team to allocate existing parts and find alternate materials. Spokeswoman Kelly Cusinato said it's too soon to predict the impact of the shortage.
Ford Motor Co. and Chrysler Group said they haven't had any factory disruptions, but are monitoring the situation.
"The shortage is real and immediate," TI Automotive Ltd. Chairman and CEO William Kozyra wrote in a memo to customers last week. "The possibility of production interruptions at some of your facilities in the next few weeks is high."
TI Automotive is a major supplier of fuel lines and other parts. TI and the Automotive Industry Action Group, a trade association, are organizing Tuesday's meeting of auto industry executives.
Evonik is a major supplier of PA12. While a small number of other companies also make it, they could lose a key building block in the formula, since Evonik supplies many of them with the essential ingredient CDT.
Auto parts makers can't switch to another chemical quickly because it would need to be thoroughly tested, said J. Scot Sharland, executive director of the Automotive Industry Action Group.
PA12 has been in short supply for about two years, as demand from the solar industry increased. The Evonik incident will worsen the shortage, which could hit every major automaker, Sharland said.
"These guys are a major player. As such, the supply of the material is going to be compromised," he said, adding that the Evonik plant is expected to be out of commission for months.
Messages were left for several Evonik spokesmen on Monday.
The blast at the German plant came a little more than a year after the earthquake and tsunami in Japan wreaked havoc on the automotive supply chain. In that case, there were no alternatives to Japanese suppliers of specialized electronic equipment, and automakers lost hundreds of thousands of vehicles while they worked to reestablish supplies.
In this case, there are other suppliers, but not many. Paul Blanchard, a senior principal chemical analyst at consulting firm IHS, said there are only three or four other suppliers of CDT — the key ingredient of PA12 — in the world. Evonik and French chemical company Arkema together make nearly half the world's supply of the nylon resin.
"This is a very small part of the small plastics industry," he said.
Blanchard said automobile fuel lines were previously made of rubber. Carmakers switched to other materials when ethanol was added to gasoline in the 1990s because ethanol ate through rubber tubing. Tubing made with PA12, or Nylon-12, is prized for its strength and heat resistance.
Blanchard said the auto industry has been looking for materials to replace PA12 because the ongoing shortages of it have caused prices to spike in the last two years.