Cam Newton's 1970 Olds 442 is a gold-plated muscle machine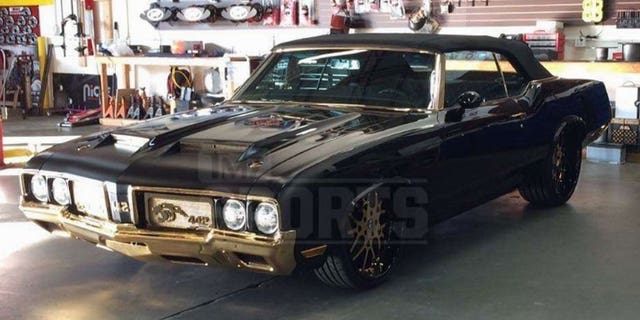 Cam Newton may not have brought home the silver Vince Lombardi trophy from the Super Bowl, but now he has a gold Olds to help him get over it.
TMZSports.com reports that the Carolina Panthers quarterback had a 1970 Oldsmobile 442 Cutlass convertible modified by Monster Customs in Marietta, Ga., with Alcantara upholstery, oversize wheels, a new sound system, glossy black paint with matte black flame decals, and 24-carat gold plating everywhere the chrome used to be.
It's on the windshield frame, rings the cabin, and covers the bumpers and grille. The shop also fashioned a couple of panther heads and a C1N logo from the precious metal, so Cam will probably want to be careful where he parks.
He also had an air suspension system installed to address a very specific problem: the car used to lean too much when he it drove around with some of his extra-large football friends.
The whole job cost about $45,000, according to Monster Customs, which means Cam still has $6,000 left over from his $51,000 Super Bowl loser bonus for gas.