Cadillac President Johan de Nysschen replaced by GM veteran Steve Carlisle
NEWYou can now listen to Fox News articles!
General Motors is replacing Cadillac President Johan de Nysschen with GM Canada President Steve Carlisle, ahead of the introduction of the brand's first small crossover.
De Nysschen came to Cadillac after stints at Infiniti and Audi, but struggled to find success with a product mix heavy with sports sedans and coupes as the luxury market shifted toward trucks and SUVs.
"We appreciate Johan's efforts over the last four years in setting a stronger foundation for Cadillac," said General Motors President Dan Ammann. "Looking forward, the world is changing rapidly, and, beginning with the launch of the new XT4, it is paramount that we capitalize immediately on the opportunities that arise from this rate of change. This move will further accelerate our efforts in that regard."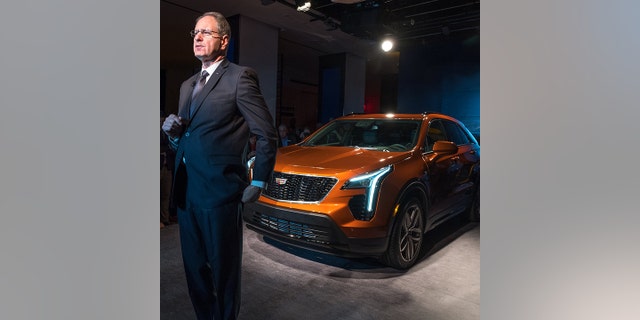 The XT4 unveiled at the New York International Auto Show is expected to be one of Cadillac's top-sellers when it goes on sale later this year. It will slot into the lineup under the larger XT5, which is the brand's most popular model by far today.
De Nysschen had announced plans to reduce the number of sedans and coupes in Cadillac showrooms, but a much-needed three-row crossover utility is still at least a year away. He also clashed with Cadillac dealers about a major overhaul of its retail network known as Project Pinnacle.
Cadillac sales have been booming in China, where they were up over 50 percent in 2017, but slipped 8 percent in the United States last year and have only recovered by that same amount through the first quarter of 2018.
De Nysschen's departure is effective immediately, according to a GM statement. Carlisle started his career with the company as an engineer in 1982.
EXCLUSIVE: TRUMP GETTING NEW LIMOUSINE THIS SUMMER: