Buick to Build Very Small SUV in Michigan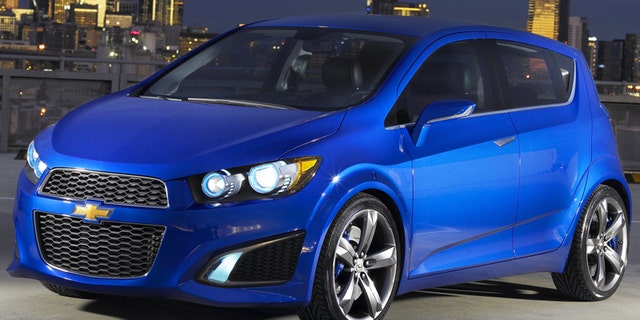 DETROIT - General Motors Co.'s Buick brand will take another step toward attracting younger buyers with a small crossover vehicle to be built at a Michigan factory, a person briefed on the plan said.
GM is starting to equip a plant in Orion Township, Mich., north of Detroit to build the new vehicle, which will share underpinnings with the new Chevrolet Aveo subcompact, said the person, who asked not to be identified because plans have not been made public.
Spokeswoman Dayna Hart on Tuesday confirmed that GM is planning a small crossover vehicle that will look like a baby version of the Buick Enclave. Crossovers generally have the passenger room and storage capacity of a sport utility vehicle but are more efficient and handle better because they are built on car frames.
Buick executives are scheduled to brief reporters on product plans for the brand at an event on Wednesday near Detroit.
GM is moving equipment into the Orion factory to build a new version of the Aveo that will get about 40 mpg on the highway and appear in showrooms sometime next year. It will compete with the Honda Fit and Toyota Yaris subcompacts.
Hart would not confirm that the Orion plant will build the new Buick, and would say only that it would be in showrooms in the next few years. GM has hinted during auto shows that a small Buick crossover would be coming.
Buick executives have said that brand's new products will have luxurious interiors to compete with Lexus and nimble handling to compete with Acura, two successful Japanese luxury brands.
The company also has hinted at a compact Buick built on the same underpinnings as the Chevrolet Cruze sedan, but has given few details. A similar vehicle is already on sale in China, where Buick is popular.
The Cruze, built in Lordstown, Ohio, is scheduled to be in U.S. showrooms in September. It's about the size of a Ford Focus or Honda Civic and is larger than an Aveo.
GM is hoping the smaller Buicks will help pull younger people into the brand, which for years has attracted senior citizens. Until recently, many of Buick's models had bench seats and soft, cushy rides.
As a result, the average age of the Buick buyer was 66.2 in 2000, GM said. Last year it dropped to 65 as the company has tried to remake Buick's image as sportier luxury brand that's competitive with Acura and Lexus. But its average age is still 11 years above the industry average of 54 for all cars in the U.S.
New products, such as the Enclave large crossover, have helped to bring the age down, Hart said. The average age of the Enclave buyer is 59.
A new midsize Regal sedan due out sometime this quarter also is expected to attract younger buyers, in their 40s and 50s.
Buick is one of four brands that GM kept as it emerged from bankruptcy protection last year. The company kept Buick, Chevrolet, GMC and Cadillac while deciding to sell or close Saturn, Pontiac, Hummer and Saab.
GM announced last June that it would build the Aveo at the Orion plant, about 40 miles north of Detroit, preserving 1,200 jobs. The plant is expected to run two shifts next year and make 160,000 vehicles per year.