BMW engineers helping US long jumpers ahead of Olympics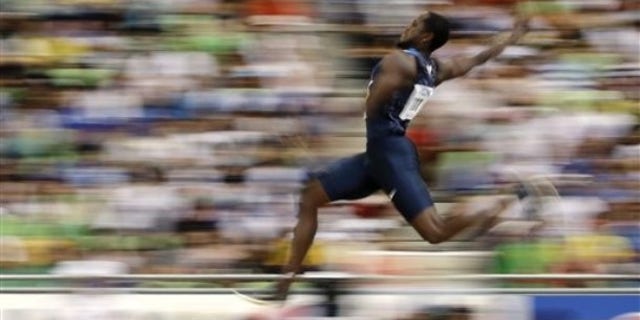 LOS ANGELES -- The human race has made some tremendous advances over the last couple hundred thousand years. Stone tools. Vaccines. Pop-Tarts. But here's something we haven't quite mastered: how to long jump.
When Bob Beamon leapt 29 feet, 2 ½; inches to set a world record at the 1968 Olympics, his performance was a total anomaly: He smashed the old record by nearly two feet.
His record stood for nearly 23 years until Mike Powell eclipsed the mark by two inches in 1991 -- a record that still stands.
By comparison, records in other events have crumbled like sand castles. The men's high-jump record has been broken 18 times since 1968. The 1,500-meter record has gotten torched 11 times.
For decades, coaches and trainers have developed tools to try to improve long-jump performance. They've told athletes to leap off wooden crates to mimic the sensation of soaring into the pit and scattered hula hoops on the runway to measure their steps. They've created exercises involving springs and resistance bands, force plates and hurdles.
Now, the US Olympic Committee is pinning its hopes on a training tool developed by the same people who brought the world the M6 coupe.
As part of BMW's USOC sponsorship efforts ahead of the London Games, engineers from the car maker have donated their time to construct a camera system that is designed to provide something jumpers have never had before: immediate quantitative feedback.
The distance of a long jump hinges on the moment when a jumper transfers his horizontal velocity (running speed on the runway) into vertical velocity as he leaps off the board. Most elite long jumpers are able to generate a vertical velocity that is about a third of their horizontal velocity -- but, generally, the higher that ratio, the longer the jump.
BMW's research involves using a special "stereo" camera outfitted with two lenses to film athletes as they jump. The camera, which BMW is developing for the purposes of lane-detection systems in its automobiles, turns video into data that is processed through an algorithm on an open-source robotics system.
After a jump, the system spits out three crucial numbers on a trackside monitor: A jumper's horizontal velocity, his vertical velocity as he left the board and his angle of flight.
Joe Walker, the longtime track-and-field coach at the University of Mississippi, said he supports these kinds of innovations, within reason.
"You can't go science all the way," Walker said. "It's not like you have a little robot machine where you can say, 'OK, you had a takeoff angle of 17 degrees that time, so I'm going to go down before your next jump and dial up 19 degrees.' It just doesn't work that way."
Walker, who coaches Brittney Reese, the likely gold-medal favorite at the Olympics this summer, said one of his most trusted training tools is a towel that he hangs from a metal pole. He extends it over the pit and has his jumpers try to brush it with their foreheads as they leap off the board -- a reminder that they should be jumping up instead of out.
Walker said he picked it up from watching Ralph Boston, the three-time Olympic medalist and former world record holder. He retired in 1968.