Big Three August Auto Sales Better Than Expected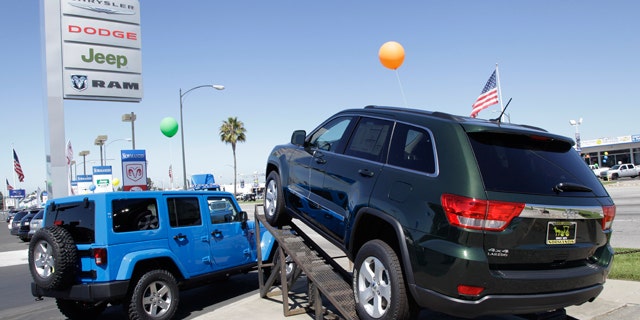 Car buyers shrugged off bad economic news and a major East Coast hurricane last month, lifting U.S. sales for most automakers.
General Motors, Chrysler, Ford and Nissan reported surprisingly strong sales results on Thursday. Toyota and Honda, however, continued to be hurt by model shortages from the March earthquake and tsunami in Japan. Both reported large sales drops.
Industry analysts had expected a weaker August because of consumers' anxiety about the economy and Hurricane Irene, which forced many dealers to close during the key final weekend of the month.
But Don Johnson, GM's U.S. sales chief, said other factors are making cars more attractive to buyers, including new products, low interest rates and stronger household budgets.
"Consumers are being cautious, yes, and appropriately so, but they are not retrenching," he said. "All indications to us are that the industry is going to continue to slowly grow through the rest of the year."
Chrysler sales led the way in August with a 31 percent increase from a year earlier. GM's sales rose 18 percent, Nissan was up 19 percent and Ford reported an 11 percent increase. Toyota sales were off almost 13 percent, while Honda sales were down 24 percent.
Honda and Toyota lost sales because of parts shortages caused by the earthquake. Dealers ran short of many top-selling models. Sales of the Toyota Corolla compact were down 19 percent, while Honda Civic sales were off 47 percent. Both companies expect better sales in September because their factories are returning to normal production.
Chrysler reported its strongest August since 2007 with sales led by Jeeps and minivans, while Ford said sales of its redesigned Explorer sport utility vehicle quadrupled over last year. Nissan's sales were fueled by subcompact and midsize cars such as the new four-door Versa and Altima sedan.
GM's big increase was sparked by the Chevrolet Cruze compact, which accounted for one in every 10 GM vehicles sold. The Cruze, introduced last year, has been a top seller for the company since the start of the year, giving the company its first strong product in a growing market. Cruze sales topped 20,000 for the fifth straight month. Buyers also went for the Chevrolet Equinox and GMC Terrain small crossovers.
Auto sales had been a bright spot for the U.S. economy through May, but began sputtering in the summer as consumer confidence waned and a March earthquake in Japan caused shortages of Honda and Toyota models. Then came the hurricane, which forced many East Coast dealers to close in the month's final weekend. Normally buyers come out on the last weekend, lured by deals and advertising.
Even before the storm, J.D. Power was forecasting total sales of 1.07 million for the month. While that forecast is 4 percent higher than August last year, it's still a much slower pace than at the start of 2011.
Sales could improve this fall when automakers offer sweeter deals and a wider selection of models.
Cash-back offers, low-interest loans and other deals have been scarce this summer because of the model shortages. But they're expected to return as Honda and Toyota replenish their dealer lots in September and October and try to win back market share lost during the earthquake shortfalls.
Toyota will also begin selling its new Camry sedan in October, which could lift sales.
The industry remains cautious. The unemployment rate is stuck at 9 percent, food and clothing costs are going up and consumer confidence dropped to its lowest level in more than two years in August.
To boost next month's sales and help people whose cars were damaged by the hurricane, GM is offering to defer payments for 90 days. It's also giving $500 toward the purchase or lease of a new vehicle. The offer is for areas designated major disaster areas by the federal government.
Sales of GM's full-size pickup — the GMC Sierra and Chevrolet Silverado — rose 10 percent after being slow for much of the year.