Best exterior car trim cleaners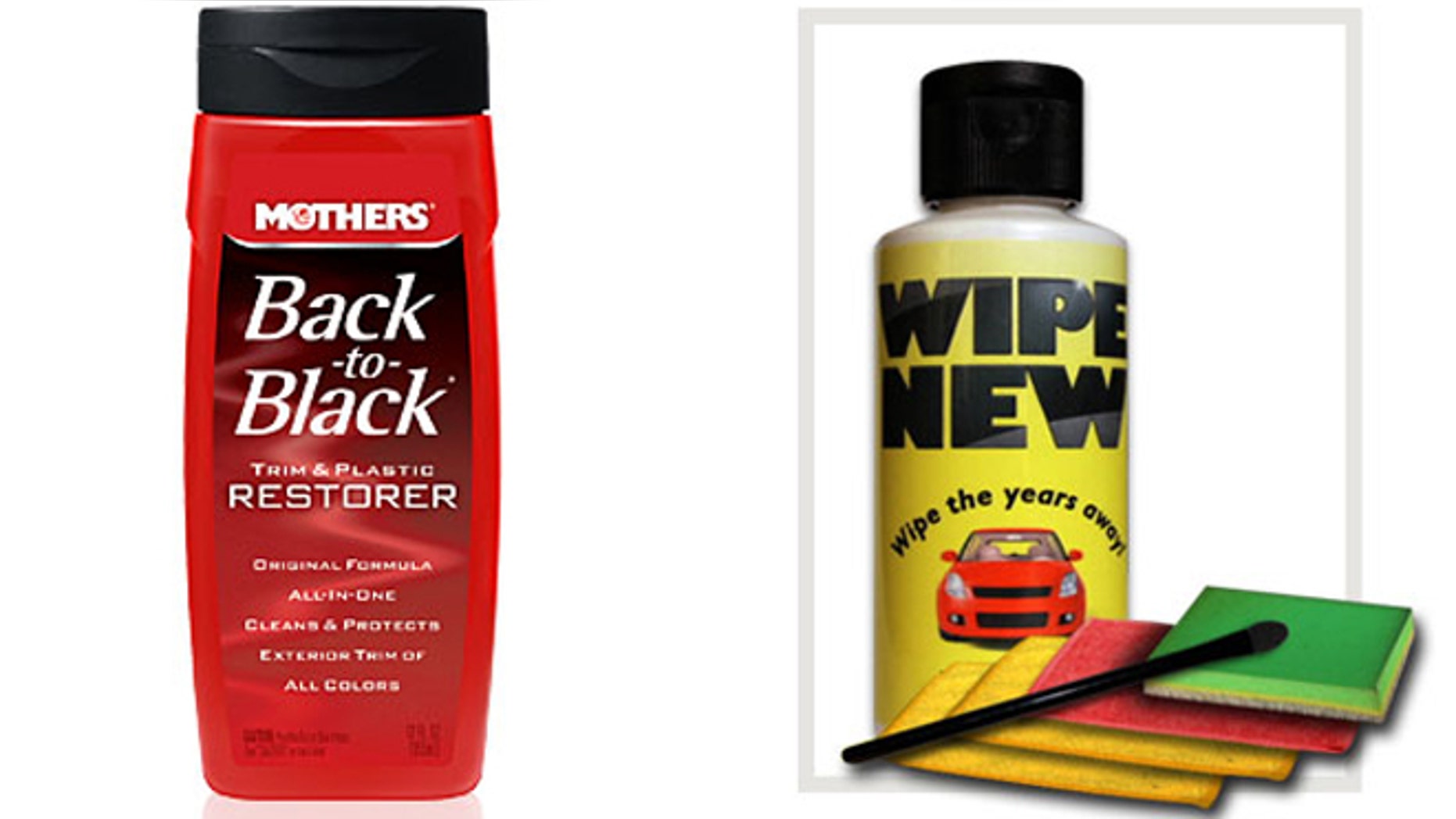 Black has become the new chrome for many new vehicles, as automakers have taken to swathing bumpers, side panels, and other exterior areas in dark, plastic trim. But exposure to the elements takes its toll, and dark trim often starts to fade to a lighter gray and turn chalky over time. Worse, as the material dries out it can become brittle and prone to breakage.
The trend has spawned an array of cleaners and protectants that are designed to restore a dark sheen and preserve a supple flexibility that could help reduce the risk of damage. We recently sampled five exterior car trim cleaners and found big differences in the claims, performance, and price.
Most of these products are applied much like car wax, using an included applicator or a cloth. A second pass is then made with a clean cloth to even the finish and remove any residue. Manufacturers say additional applications may be necessary for the best results. Depending on the product, the packaging claims longevity of a few weeks to two years. Though some products are designed to work on any colored surface, we focused on their primary application, dark trim.
To test them, we removed well-weathered trim pieces from the lower exterior of a 2001 Toyota Sienna minivan owned by Consumer Reports. Each panel was thoroughly washed and dried. We used a wax and grease remover to ensure nothing remained that might interfere with the products' performance. Then we divided each panel into five sections and applied one product to each section, according to manufacturer instructions.
More From Consumer Reports
The panels were put on racks on the roof of our test facility and allowed to weather for 10 weeks. After each week, technicians took the panels back into the lab, where they were washed and dried again before being inspected and photographed.
Bottom line. Two products—ReNu Finish and Wipe New—really stood out, far outlasting all others. They brought back a rich, dark finish to our panels and maintained that look for 70 days and 10 washes. But both come in small bottles that provide far less product than the others.
The other products made a big improvement at first, but after 10 weeks the effect had almost completely faded. Still, if you don't mind regular applications, they offer good results and come in larger bottles.
Turtle Wax Premium Grade Trim Restorer
Product details: 10-ounce bottle, applicator included
Price: $35
At $35 for a 10-ounce bottle, the Turtle Wax product took a bigger bite than the others at the cash register. But on a "per ounce" basis, it cost far less than the much smaller bottles of ReNu Finish and Wipe New. The restorative effect faded by the end of our 10-week test, but it lasted slightly longer than the less-expensive Mothers and Meguiar's products. Instructions call for rubbing the liquid on with applicator in direct sunlight, waiting 5-10 minutes, and buffing out. Product is designed for colors as well as dark trim.
Wipe New
Product details: 1.5-ounce bottle; applicator pad, two cloths, gloves, headlight pad and detail brush
Price: $18
By far the easiest to use, Wipe New goes on as a thin, clear liquid with very good coverage. We found that only one pass was required for very good, even results. But it also carries the most potent vapors. It should only be used in a well-ventilated area and applied with included gloves. Wipe New brought back a rich, dark finish and maintained that look throughout test without added applications.
ReNu Finish
Product details 1.75-ounce bottle, applicator pad, cloth, and gloves
Price: $15
ReNu Finish proved easy to apply and long lasting, with our treated panel still looking good after 10 weeks. Instructions call for a second pass to buff out excess product. Caution is advised: This product contains a black dye that can stain paint, clothing and hands, and instructions warn against inhaling vapors. Use with included gloves.
Meguiar's Ultimate Black Plastic Restorer
Product details 12-ounce bottle
Price: $11
With a texture like liquid wax, Mequiar's is similar to apply using a towel or pad. No applicator is included. Cautions warn against using without adequate ventilation and to avoid eye or prolonged skin contact. Wipe on, buff, and you're done. But be prepared to repeat the application soon. Ultimate Black made a big improvement at first, but the panels showed some fading after two weeks. To the naked eye, it appears completely faded after 45 days.
Mothers Back-to-Black
Product details 8-ounce bottle
Price: $7
Like the Meguiar's product, Mothers Back-To-Black is similar to liquid wax to use, and it carries minimal cautions. No gloves or applicator included, and it is the least expensive product we tried. Instructions say to use liberally, and we did. Back-to-Black looked great at first, but began fading after two weeks. Like with Meguiar's, the Mothers product looked ready for another treatment by 45 days.
This article also appeared in the May 2014 issue of Consumer Reports magazine.
Copyright © 2005-2014 Consumers Union of U.S., Inc. No reproduction, in whole or in part, without written permission. Consumer Reports has no relationship with any advertisers on this site.