Ayrton Senna remembered 20 years after death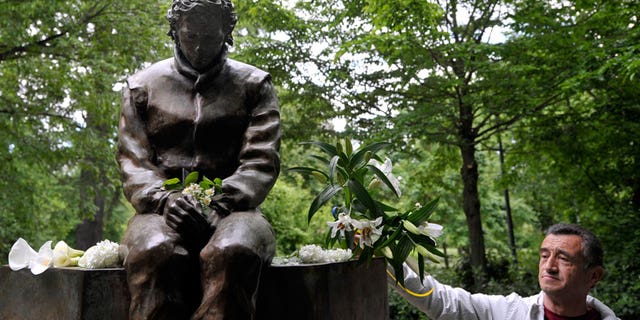 The crowd resembled the kind of gathering normally reserved for a Formula One podium celebration.
Only this time, the thousands in attendance fell silent at exactly 2:17 p.m.
Fans, family members plus fellow and current Formule One drivers attended a solemn but also festive memorial Thursday to mark the exact 20th anniversary of Ayrton Senna's death at the 1994 San Marino Grand Prix.
The ceremony was held on the Imola circuit's Tamburello curve where Senna crashed into a concrete wall at about 300 kph (185 mph). Austrian rookie Roland Ratzenberger, who died in qualifying a day before, was also remembered.
Among those in attendance were Gerhard Berger, Senna's teammate with McLaren, and current Ferrari drivers Fernando Alonso and Kimi Raikkonen.
"I think we all agree that he was the best driver of all time," Berger said, drawing a loud round of applause. "Even if it's a sad moment we're all very happy to be here and remember Ayrton."
Alonso, who has won two F1 titles, was 12 when Senna was killed.
"For a lot of us he was our idol," the Spaniard said. "I used to watch his races on the news and when you saw that yellow helmet and the No. 1 on his car, that really hit you as a kid.
"I didn't have a chance to know him or race with him and there are a lot of people here who really knew him," Alonso added. "But I also see a lot of kids, so he continues to influence a lot of people."
Senna's niece Paula was among those representing the driver's family.
She was impressed with the big turnout.
"It means that somehow he reached people's hearts, with his career and also with the way he was as a person," she said. "I feel like he's alive in people's hearts, even after all this time. ... It's beautiful."
Organizer Ezio Zermiani was beaming with delight at the event's success.
"We thought it may be something that was forgotten. But then this morning when I exited my hotel, I saw the traffic lining up longer than when there was the race here — even though there are no cars racing. So it has become a Grand Prix of remembrance."
Zermiani pointed out how the safety improvements introduced to F1 in the wake of Senna's and Ratzenberger's deaths have helped prevent any more fatal accidents in the sport in the last 20 years.
"So Ayrton didn't die for nothing," he said.