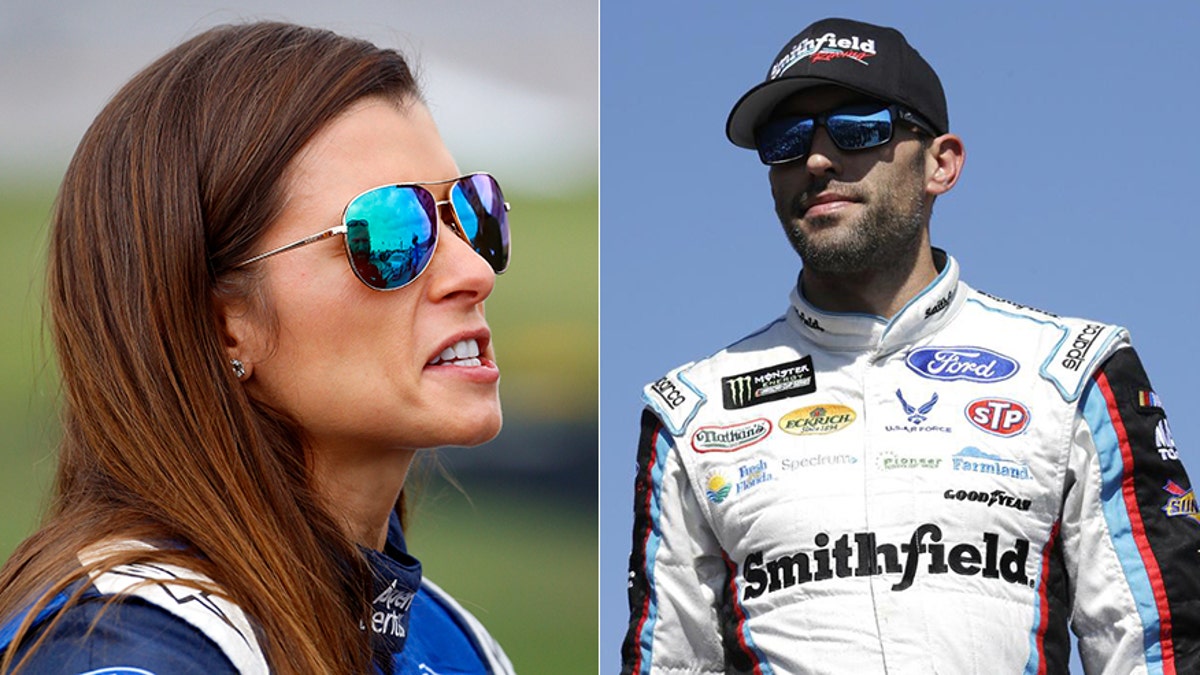 Aric Almirola's path to Stewart-Haas Racing took 10 years and included one of the worst days of his racing career.
Almirola was a development driver for Joe Gibbs Racing back in 2007 and had a chance to earn his first career victory while filling in for Denny Hamlin in an Xfinity Series race at Milwaukee. Only the sponsor wanted Hamlin in the car, and Almirola had to get out in the middle of a race he was dominating.
Hamlin closed out the win, which is credited in the record books to Almirola. He doesn't accept the victory.
Tony Stewart was a Joe Gibbs driver at the time, and never forgot that day at Milwaukee. It was in part why he hired Almirola to replace Danica Patrick in the No. 10 Ford next season.
"I think a lot of people forgot about that race and how dominant Aric was," Stewart said Wednesday. "He qualified on the pole and, I mean, anybody that remembers watching that race, he didn't have small leads, he had huge leads up to the point where he got out of the car. I watched a lot of details in that race that a lot of other people didn't focus on and that's why it's such a big deal to me because I know what kind of talent he has."
Almirola's hiring was expected after Smithfield Foods moved its sponsorship from Richard Petty Motorsports to SHR for 2018. Almirola has been partnered with Smithfield with Petty.
"We're a performance-driven company," said John Pauley, executive vice president of sales and marketing for Smithfield. "We've had tremendous success in building our brands the last five to six years while we've been involved with NASCAR and Aric's knowledge of our company, our products, our culture is something that we were determined to keep."
The move to Stewart-Haas is a step up for both the driver and the sponsor.
Although Almirola made the playoffs in 2014 with a win at Daytona that July, the Petty organization does not routinely compete for victories. Almirola was 20th in the standings when he broke his back in May, an injury that caused him to miss seven races. The team is currently 29th in the standings.
"This is an unbelievable day for me to have this opportunity," said Almirola, who is of Cuban descent. "I've worked my whole life, my whole career for an opportunity like this — to come and be a part of a championship organization."
SHR has already qualified Kevin Harvick for the season-finale championship race later this month at Homestead-Miami Speedway. The team also fields cars for Clint Bowyer and Kurt Busch, who is in a contract year with the team but could return at a reduced salary.
Almirola is replacing Patrick, who said shortly after Smithfield announced it was moving to SHR that she would not be back with the team next year. She has not announced her 2018 plans. After Patrick said she was out, both Matt Kenseth and Kasey Kahne said they were not candidates, which left Almirola as the obvious choice.
Stewart said there was no sponsor pressure to hire Almirola, who has one win in 242 career starts. Rather, he's known Almirola more than a decade and was ready to give him the chance.
Smithfield is the full-time sponsor for next season, and Billy Scott will remain as crew chief of the No. 10 team. Stewart did not disclose terms.
"There are too many rats out there with the other teams that try to go after your sponsors when they know you're in a contract year," Stewart said.