Antonio Brown unveils $300,000 Steelers-themed Rolls Royce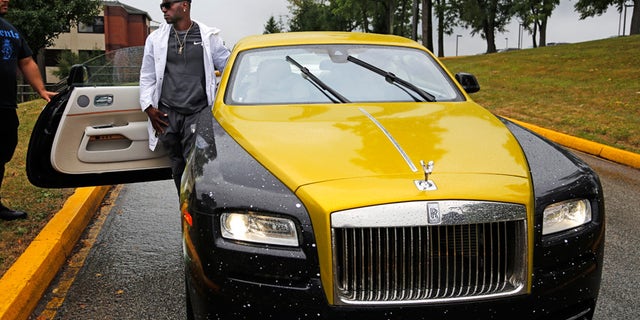 Pittsburgh Steelers wide receiver Antonio Brown showed some serious team spirit when he reported for training camp on Thursday in a star-studded Rolls Royce Wraith.
The $300,000 suicide door-equipped coupe sports a custom black and yellow wrap with a galactic theme that incorporates a stylized version of the Steelers' three-diamond logo.
Like all Rollers, the Wraith also features a Starlight Headliner with hundreds of LED lights that mimic the night sky.
The car blew up the internet, and caught the eye of rival NFL wide receiver Brandon Marshall, who offered bet a Porsche 911 GT3 against the Wraith that he'd have more yards this season than Brown.
Brown told TMZ, "if he really serious, call me," but added that he thinks the New York Jet is "too old to be doing that."
But Brown has an even younger competitor in the car game much closer to home after Steelers Jr. Reporter Xiah Zepeda rolled into camp in his GoPro camera-equipped Cadillac Escalade.