American MotoGP champ Nicky Hayden hit by car while riding bicycle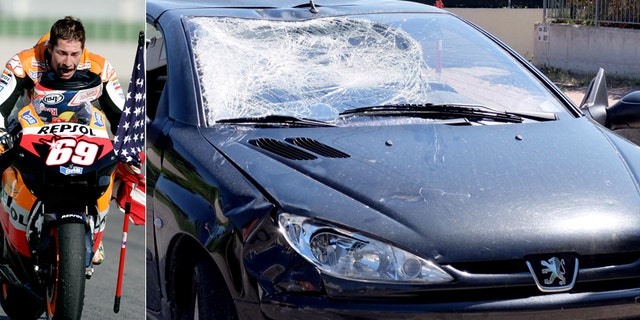 American Superbike star Nicky Hayden has been hit by a car while training on his bicycle.
The World Championship says the incident occurred today along the Rimini coast.
Hayden, who was in Italy following a race at nearby Imola, was transported to a local hospital for treatment.
Reports have suggested he suffered severe head and chest trauma – and remains in serious condition.
Images from the scene of the crash show a black Peugeot 206 convertible with a badly damaged windscreen.
And Hayden's bike was clearly thrown off the road into a grass verge, with the frame apparently snapped.
The 35-year-old won the MotoGP title in 2006 – pipping legend Valentino Rossi.
Hayden has focused on World Superbikes for the past two years and is 13th in this season's standings.
He finished fifth last year – taking his team's only victory of the campaign in Malaysia.