America has the worst traffic in the world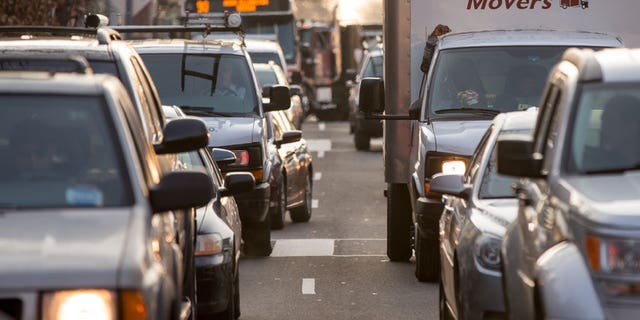 Gas prices are cheap. The unemployment rate is low. The population is growing. Fueled by those factors, Americans drove more than three trillion miles last year, according to the Federal Highway Administration, the most since the start of the Great Recession.

But the increased economic activity comes with a downside – more motorists are stuck in traffic.

Congestion is a growing problem in most major US cities, according to Inrix, a leading provider of real-time and predictive traffic data. The Seattle-based company released its annual traffic scorecard Tuesday, and found commuters in America waste more time stuck in traffic than anywhere else in the world. The average American commuter loses an average of nearly 50 hours a year atrophying in traffic, according to Inrix.
Depending on where you live, that number can vary greatly. Los Angeles commuters faced the worst conditions in the country, frittering away 81 hours per year in traffic. Washington D.C. and San Francisco drivers were next, losing an average of 75 hours.

Rounding out the American top 10: Houston (74 hours), New York (73 hours), Seattle (66 hours), Boston (64 hours), Chicago (60 hours), Atlanta (59 hours) and Honolulu (49 hours). Worldwide, Londoners faced the worst traffic, wasting 101 hours per year idling in their cars. But American cities claimed the next five spots. Overall, US commuters wasted 8 billion hours in traffic, according to Inrix.

It's going to get worse. An estimated 70 million more people will be competing for space on highways over the next 30 years, according to federal estimates. During the same period, DOT projections indicate there will be 65 percent more trucks on American roads.
Transportation officials have begun to re-think their approach to dealing with urban congestion. In December, the DOT kicked off the "Smart City Challenge," a national competition that offers $40 million in federal money as a prize to a single city that presents the most innovative plan for reconfiguring its future around sustainable and shared transportation options while incorporating the use of data solutions.

"As a society, we don't value our time at all," said Seval Oz, head of Continental's business unit for intelligent transportation systems. "We haven't thought about what it costs us to sit in traffic. I love to drive, but I don't like to drive in traffic. There is a disconnect there."
The DOT expected to receive 15 to 20 applications for the Smart City Challenge, but 78 American cities submitted applications. Last week, Secretary Anthony Foxx narrowed the list to seven finalists. A winner will be announced in June.

Even though only one city will win, federal officials said the sheer number of applications showed city planners are beginning to address – some, urgently so – the congestion, pollution and economic disparities often caused by current road conditions and infrastructure.

"We, as a nation, have very challenging transportation issues and I think some might say that's charitable," Foxx said while speaking at South By Southwest in Austin, Texas, on Sunday. "... The question is what are we going to do about them."
Also from Autoblog: