Abandoned Ferrari worth millions tied up in legal limbo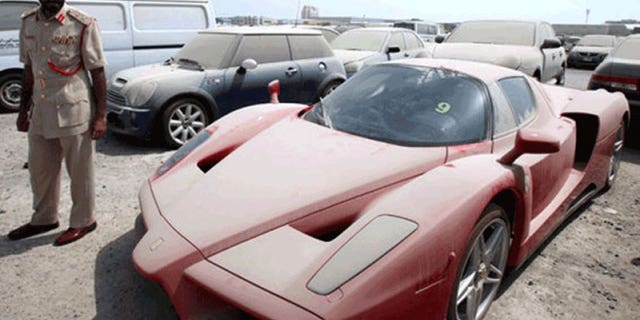 The Dubai police department possesses a treasure, but it can't cash it in.
A rare Ferrari Enzo supercar worth millions of dollars has been impounded since 2012, after it was abandoned by its former owner, a British citizen.
Many foreigners leave their cars behind when they exit the country, often due to accumulated debts, which are punishable with jail time there.
Waste collectors keep an eye out for vehicles sitting in lots for long periods of time and report them to the police. If they're not claimed after six months, the police department is allowed by law to auction them off. In 2012 the department announced plans to do just that with this one, but it never did.
Ever since photos of the dust-covered Ferrari sitting under the desert sun made the rounds of the Internet, offers to buy it have come from around the world, leaving many to wonder why the police still have it. But the cars can only be auctioned if they aren't involved in any investigations, and it turns out this Ferrari is.
According to Emirates 24/7 News, Interpol informed the Dubai police that the car was reported stolen, and legal proceedings are now under way. Its last owner, the local dealer who sold it to him, and several other interested parties are disputing its rightful ownership, and until the court issues a verdict, the Ferrari must remain under lock and key. It is now being held inside a warehouse to prevent further damage.
Only 399 Enzos were sold between 2002 and 2004 for $659,330 each. A 400th was donated to the Vatican and auctioned for $1.1 million.
Just a few weeks ago an Enzo that had been ripped in half in an accident and repaired was auctioned for $1.75 million, while one owned by boxer Floyd Mayweather with only 560 miles on it was auctioned last December for $3.3 million.